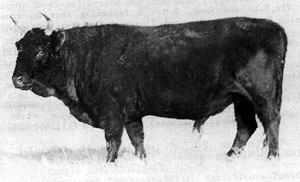 The Mongolian is one of the most popular among Chinese indigenous cattle breeds. It is located mainly in Inner Mongolia, but is also widely distributed in the northeast, north, and northwest. The breed is usually brindle or reddish brown but will sometimes be black, yellow or pied. They are found in two varieties, the Ujumqin and Halhïn Gol.
Body measurements
Body weight and conformation of Mongolian cattle are influenced greatly by the type of natural grassland on which they are reared. Cattle kept on pasture, steppe, semi-desert-steppe and desert have a tendency to become increasingly smaller in that order.
Milk production
This is influenced by natural conditions and nutritional level, as well as by calving (lactation) number and stage of lactation. Ujumqin cows, a type of Mongolian, may produce 500-600 kg of milk in a 5-month lactation with good nutrition in the grass-growing season, the fat content being about 5 percent. Daily milk yield is highest in the first month, then gradually declines during the 5-month lactation period.
Reproduction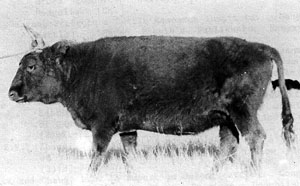 Mongolian heifers first come on heat at the age of 8-12 months, but are not used for breeding until 2 years of age. There is a breeding season from April to November, but most cows are bred from May to September because of marked seasonal differences in climate and condition of the grassland.
References
Cheng, P. (1984) Livestock Breeds of China. Animal Production and Health Paper 46 (E, F, S). Publ. by FAO, Rome, 217 pp.
Mason, I.L. World Dictionary of Livestock Breeds. Third Edition. C.A.B International. 1988