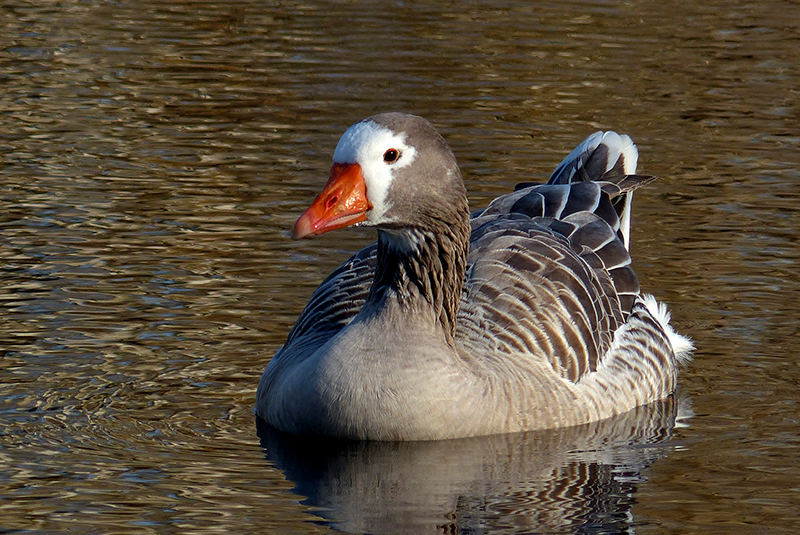 The calm, personable Pilgrim is the only breed in which males and females come in different colors; the males are creamy white and the females are olive-gray. While often described in popular literature as an old breed with origins in England and arrived in America with the Pilgrims, it is likely that the Pilgrim was not standardized as a breed until this century. Oscar Grow claims to have developed them in the 1930's in the midwestern U.S. Whatever its origin, the Pilgrim makes a superior home goose because of its quiet disposition, excellent parenting qualities, and fast growth (10 pounds in about 10 weeks). Adults weight 12-16 pounds. Unlike some of the other breeds, there is not much difference between production and exhibition forms of the Pilgrim. The Pilgrim is a sex-link breed for coloring.
Status
Rare. An exact classification of the Pilgrim is difficult. Breeders who surveyed had quite different opinions of its status. While it is rare, we believe that the national population is probably larger than our survey population predicts, since geese breeders (facing many fewer poultry health problems) are less likely to be NPIP-inspected. However, there have been serious fertility and deformity problems in some parts of the U.S., probably from inbreeding. Breeders admit that good Pilgrims are very hard to find. Finally, the Pilgrim may well be the next breed of goose to be industrialized, so there is good reason to act now and conserve the population that we have. ALBC is quite interested in locating more good flocks of Pilgrim geese.
References
The Livestock Conservancy PO Box 477, 33 Hillsboro St, Pittsboro, NC 27312

"Pilgrim." The Livestock Conservancy. The Livestock Conservancy, n.d. Web. 13 July 2015.
Ekarius, Carol. "Geese: Pilgrim." Pocketful of Poultry: Chickens, Ducks, Geese, Turkeys. North Adams, MA: Storey Pub., 2007. 222-23. Print.