The Belted Galloway is essentially the same in origin and characteristics as the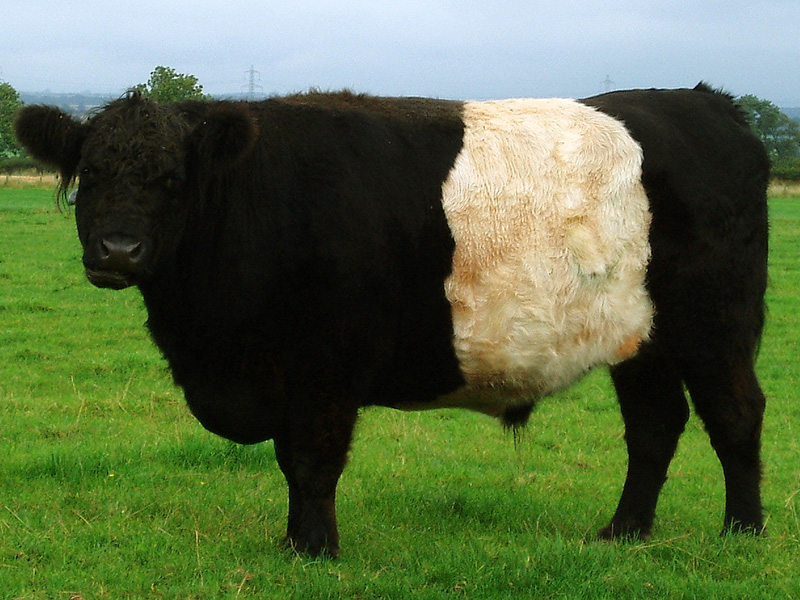 Galloway, and are set apart from the Galloway by the distinctive white belt that is thought to have been introduced by an infusion of Dutch Belted blood, probably in the seventeenth or eighteenth century, according to "History of the Belted Galloway Society, Inc.," The Herd Book of the Belted Galloway Society, Inc. (vol1, 1951-1971) by A. Mims Wilkinson, Jr
For years the belted cattle, often called "Belties," were registered in the Polled Herd Book that was started in 1852 and registered Aberdeen-Angus and Galloways. In 1878 the Galloway breeders acquired rights to their portion of the herd book. Later the Dun and Belted Galloway Association was formed. After 1951 the name of the organization was changed to the Belted Galloway Society and dun cattle were no longer registered.
The first Belted Galloways were imported to the United Staes by Harry A. Prock, Whitemarsh, Pennsylvania in 1950. There have been limited importations of the breed since that time but the number brought have not been large.
General Characteristics
It is claimed that the Belted Galloways are larger, milk heavier, and grow more rapidly than the parental breed. The distinctive white belt found in Belted Galloways often varies somewhat in width and regularity but usually covers most of the body from the shoulders to the hooks. The white contrast to the black coat, which may have a brownish tinge in the summer, sets the breed apart with its striking color pattern. The fore part of the udder may be within the white belt. Because of this distinctive look the cattle are also called as "Oreo cookie cows."
Belted Galloway Breed Associations and Registries
Australia
Australian Belted Galloway Cattle Breeders Association
Box 108
Goodwood, South Australia 5034
Phone: 08 210 5211
Canada
#1 Hallstone Road, R.R. 10
Brampton, Ontario L6V 3N2
Phone: (905) 453-9487
Email: galloway@clrc.ca
Great Britain
Belted Galloway Society
Old Place of Mochrum
Wigstownshire, Scotland
Phone: 01671 830 210
United States
Belted Galloway Society, Inc.
N8603 Zentner Road
New Glarus, WI 53574
Phone: (608) 220-1091
References
Briggs, H.M. & D.M. Briggs. Modern Breeds of Livestock. Fourth Edition. Macmillan Publishing Co. 1980
Promotional materials. Belted Galloway Society, Inc., acquired by Dr. Michael L. Thonney, Professor of Animal Science, Cornell University.