The Finnish Landrace has a very similar origin to that of the other Landrace strains of northern Europe. Native stock was crossed with the improved strains of Landrace that were introduced from the other countries, particularly those of Scandinavian neighbors.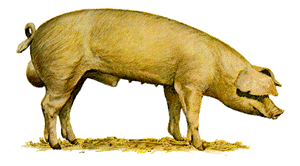 While similar to other Landrace, with their white color and heavy, drooping ears, the breed found in Finland is characterized by an extreme trimness. Because of this, they have been imported as seedstock to other countries that depend heavily on Landrace in their swine producing industry.
Swine production of Finland is on a practical basis with much emphasis on farm testing. While the swine improvement program of Finland is relatively new, it has been satisfying to swine producers of the country. Assistance is given the swine farmers in their breeding programs and in their herd bookkeeping.
Registrations of the Finnish Landrace are with the Finnish Animal Breeding Association, Pig Breeding Department, Box 40, 01301 Vantaa 30, Finland.
References
Briggs, Hilton M. 1983. International Pig Breed Encyclopedia. Elanco Animal Health