Also Known As: Transtagana
This breed is found in the region of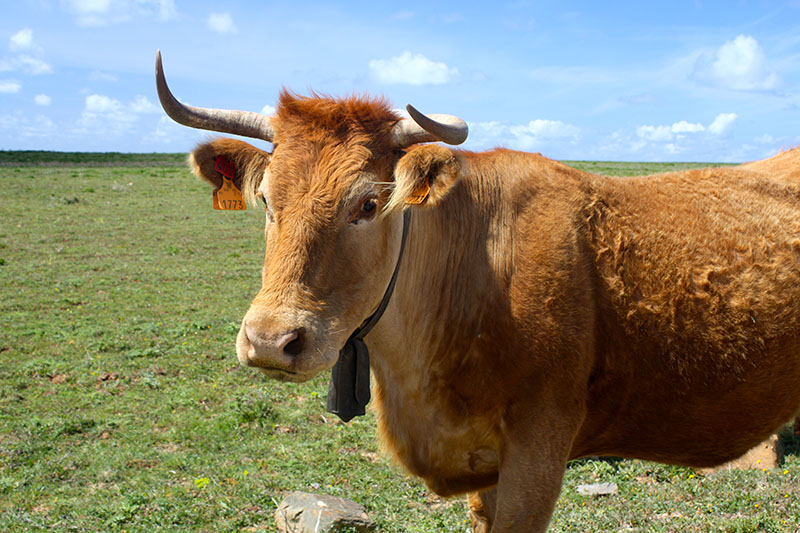 Alentejo, Portugal, is similar to the Spanish Retinta breed and is used for meat production and as a draft animal. It was originally chosen for resistance, which made it a working breed. The medium-sized breed is reddish-gold in color and has long, forward-facing horns that are upturned. This breed has broad and long shoulders and muscular hind legs.
In the plains and hills of the Alentejo, in the central-southern area of Portugal, the Alentejana has long been the most significant working breed. The mechanization of agricultural labor began to take hold in the middle of the 20th century. The breed selection process changed at this time to be more concerned with the meat's quality.
The Alentejana breed is now a widely raised one that grazes freely across sizable regions. The uniqueness of this free feeding in a dry, hot environment results in the highest quality meat.
The Associaço de Criadores de Bovinos da Raça Alentejana, located in Assumar, is in charge of maintaining the genealogy of the Alentejana breed, and they work together to ensure the traceability of all the animals that are killed. However, restoring the breed's purity has led to an issue because the genetic diversity of this variety has decreased.
The Mertolenga and the Southern Crioulo from Brazil originated from this breed.
References
Mason, I.L. 1996. A World Dictionary of Livestock Breeds, Types and Varieties. Fourth Edition. C.A.B International. 273 pp.
"Alentejana Cattle Breed - Arca Del Gusto." Slow Food Foundation, 26 Sept. 2021, https://www.fondazioneslowfood.com/en/ark-of-taste-slow-food/alentejana-cattle-breed/.