Australian Braford Cattle
The Australian Braford breed was developed in Queensland in the period between 1946 and 1952. It is now a stabilized breed with approximately 50 percent Hereford and 50 percent Brahman genetic background.
The breed carries many of the Brahman characteristics, such as a hump, loose skin, short coat, etc. whilst its color markings are those of the Hereford. It is heat resistant and relatively tick tolerant, and performs will in harsh tropical conditions. Equally, the breed is building an excellent reputation in the more temperate areas of Australia.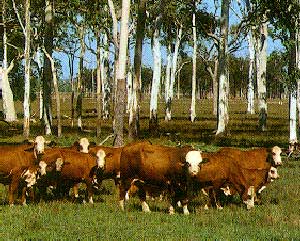 It is a little later in its maturity level than the British breeds. Hence it produces good yearling and steer carcasses that have a minimum of waste.
The Braford is mainly found in Queensland and NSW, although smaller numbers are found in other states. Exports have already occurred, mainly to Asian countries. Numbers of commercial cattle are available, as well as stud bulls and females.
Australian Braford Society
122 Denham Street
(PO Box 749)
ROCKHAMPTON Qld 4700
Australia
Phone: 61 7 4927 5196
Email: braford@rocknet.net.au
References
Handbook of Australian Livestock, Australian Meat & Livestock Corporation,1989, 3rd Edition