Also Known As: Antioquia, Bon, BON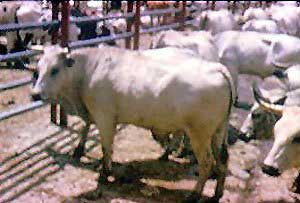 The Blanco Orejinegro (meaning: white black-eared) are of the Crillo type and come from the Antioquia region of Colombia. They are white with black points. The coloration of the breed has lead to speculation as to its ancestry with possible connections to Wild White, Swedish Mountain, Trondheim, Mauritius or White Italian cattle considered possible. A more likely origin is that the breed was simply selected for the color pattern over a period of time.
The breed is used for draft and dairy purposes on the coffee plantations of the area as well as pack animals in the mountains. Although decreasing in numbers it is the most numerous Crillo breed found in Columbia. Mature Blanco Orejinegro cows weight approximately 500 kg and bulls vary from 600 to 800 kg.
References
Genus Bos: Cattle Breeds of the World, 1985, MSO-AGVET (Merck & Co., Inc.), Rahway, N.J.
Mason, I.L. 1996. A World Dictionary of Livestock Breeds, Types and Varieties. Fourth Edition. C.A.B International. 273 pp.