The Droughtmaster were developed in northern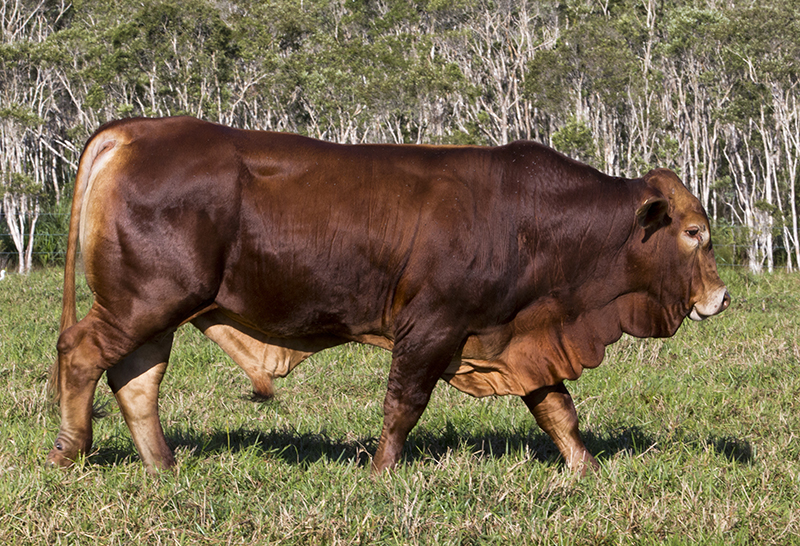 Queensland, Australia's hot tropical north. Initial crossing of Shorthorn and Brahmanbreeds led to selective breeding of the progeny to arrive finally at a fixed tropical breed containing approximately 50 percent Shorthorn and 50 percent Brahman bloodlines. Its popularity has increased to the degree that is spread throughout most states of Australia, although they are found mainly in Queensland.
The breed is basically red in color, although variations from a golden honey color to dark red occur. Droughtmasters are either polled or horned with the majority of stud cattle exhibiting the poll characteristic. Their heat and tick tolerance, excellent fertility, ease of calving and quiet temperament give this breed a good reputation.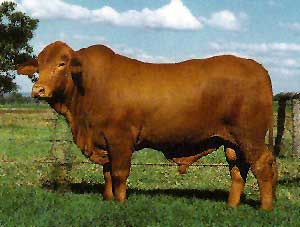 Droughtmasters exhibit medium to slightly late maturity in carcass development. They have gained a reputation for producing lean carcasses in the yearling to two year old steer group, although large bullocks are produced, particularly in northern Queensland.
References
Handbook of Australian Livestock, Australian Meat & Livestock Corporation, 1989, 3rd Edition
Mason, I.L. World Dictionary of Livestock Breeds. Third Edition. C.A.B International. 1988