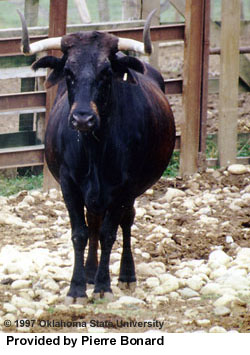 Also known by: Salmantina (Spanish)
The Morucha originated in the region of Salamanca in Spain. With a current population of 161,000 animals it is an important Spanish breed. Historically the breed was used as a draft animal and has been used to produce fighting bulls but it is currently primarily used for beef production. They are thought to have originated from Black Iberian cattle. Current (1999) ranked geographic distribution would be as follows: Salamanca, Cáceres, Samara, Ávila, Valladolid, Badajoz, Palencia, Toledo, Jaén, Ciudad Real, Madrid and some areas of Portugal.
It is average in size with the males weighing as much as 900 kilograms and Morucha females up to 500 kilograms. It is either black or blue-roan (gray).
The breed shows a strong maternal instinct and good fertility rate with a productive life of 14 to 16 years. The breed exhibits good foraging abilities and is adapted well to less intensive production systems.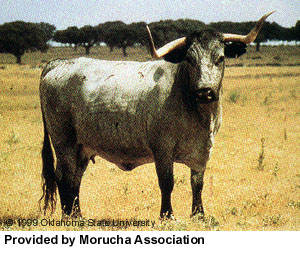 References
Genus Bos: Cattle Breeds of the World, 1985, MSO-AGVET (Merck & Co., Inc.), Rahway, N.J.
Mason, I.L. 1996. A World Dictionary of Livestock Breeds, Types and Varieties. Fourth Edition. C.A.B International. 273 pp.
Morucha Association, Spain