Nagori cattle are prevalent in the former Johrpur State,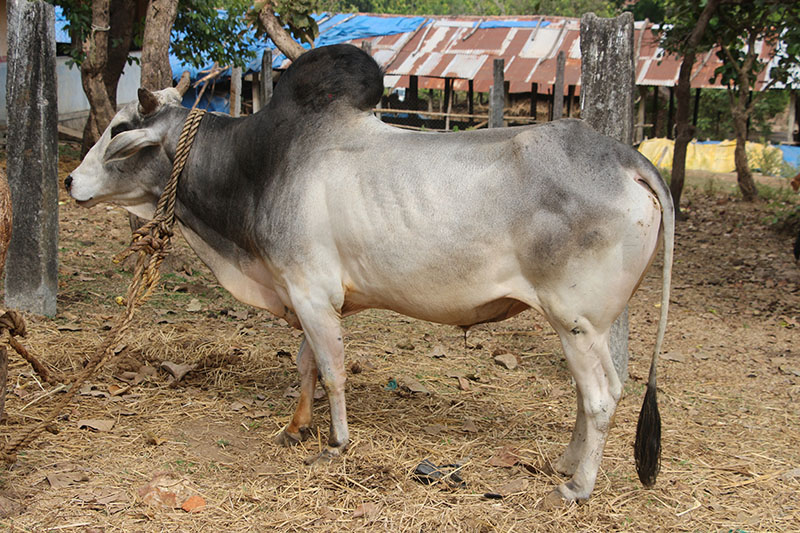 now a part of the State of Rajasthan in India. Nagori cattle are classified into the short-horned white or light gray cattle with a long coffin-shaped skull, orbital arches which do not prominent, and their face is slightly convex in profile. It has been suggested that probably the blood of gray lyre-horned cattle might have entered into the composition of Nagori cattle. Taking into consideration the proximity of the native homes of the Hariana in the north and northeast and Kankrej in the south and southwest, it seems reasonable to suppose that Nagori cattle may have evolved from these two groups. Frequency of famines in its native home has necessitated extensive movements of the cattle to other regions in search of fodder, and this has no doubt led to frequent intermixture.
Characteristics
Generally the Nagori cattle are fine, big, upstanding, active and docile, with white and gray color. They have long, deep and powerful frames, with straight backs and well-developed quarters. There is throughout the Nagori breed a tendency to legginess and lightness of bone, though the feet are strong. It is supposed that this characteristic has given the breed its agility and ease of movement.
The face is long and narrow but the forehead is flat and not so prominent. The eyelids are rather heavy and overhanging and the eyes are small, clear and bright. The ears are large and pendulous. The horns are moderate in size and emerge from the outer angles of the poll in an outward direction and are carried upwards with a gentle curve to turn in at the points. The neck is short and fine, and looks powerful. The dewlap is small and fine. The hump in the bulls is well-developed but not so firm and thus in many cases hangs over. The shoulders and forearms look muscular and powerful. The legs are straight with hooves compact, strong and small. The tail is of moderate length reaching just below the hocks and terminating in a tuft of black hair. The sheath is small. The skin is fine and slightly loose. The cows usually have well-developed udders with large teats.
The Nagori breed is one of the most famous trotting draft breeds of India and is generally appreciated for fast road work. As such, more attention has been paid by the breeders towards producing an agile yet powerful animal with a great deal of endurance.
Nagori cattle are famous as trotters, being used all over Rajputana in light iron-wheeled carts for quick transportation. They are also worked for all agricultural purposes, such as plowing, cultivation drawing water from wells and transportation of field produce to markets.
References
Joshi, N.R., Phillips, R.W. (1953) Zebu Cattle of India and Pakistan, FAO Agriculture Studies No. 19, Publ. by FAO, Rome, 256 pp.