As one of the last European breeds to be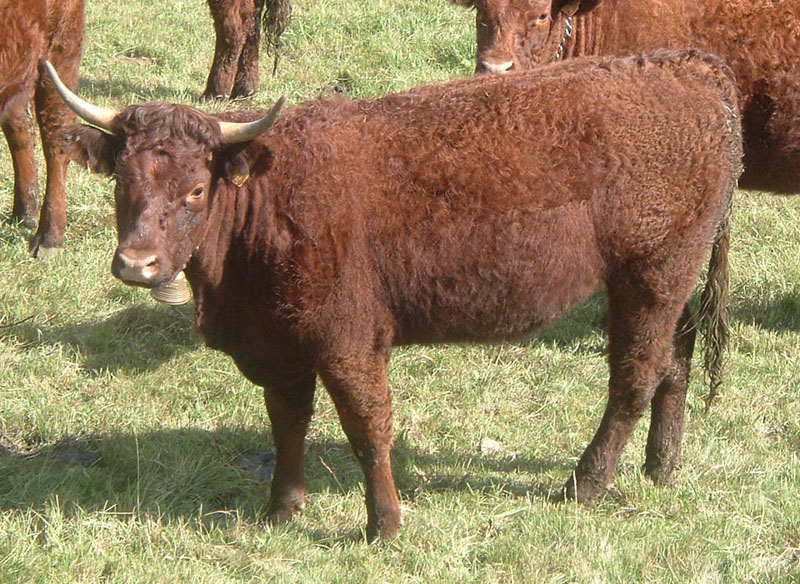 imported into North America, the Salers (Sa'lair) breed has made tremendous strides in growth and is now an influential part of the American cattle industry. Currently, the breed is registering over 28,400 head per year and is growing at a phenomenal rate each year. At a time when most breeds are registering fewer numbers, the Salers breed is continuing to increase by producing profit oriented cattle for the industry.
The historical journey for the Salers breed, was first recorded by archaeologists as depicted from ancient drawings in cave dwellings dated some 7,000 years ago. The drawings were found near Salers, a small medieval town in the center of France. These drawings and the Salers cattle of today, which are very different from all other French breeds, bear some resemblance to the ancient Egyptian red cattle.
With such a unique background, the breed is considered to be one of the oldest and most genetically pure of all European breeds. This fact produces a marked positive effect on the predictability of Salers in crossbreeding programs.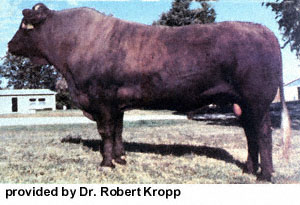 Salers cattle are now known to be native to the Auvergne region of south central France. This isolated, mountainous area noted for its rough, rocky terrain and harsh, damp climate is characterized by poor soil and a wide range of temperatures throughout the summer and long winter. As the topography allowed for little cereal grain production, the Salers cattle were forced to become foragers with bred-in range-ability to utilize, almost entirely, native grasses in summer and hay in winter.
Until modern times Salers cattle were respected not only as beef animals, but as milk producers for cheese products and were also utilized as strong sources of animal power.
Salers cattle are typically horned and dark mahogany red in color, however a growing number of polled and black Salers are available. The availability of polled genetics in addition to both red and black, gives Salers the advantage of breeding program flexibility.
In the late 1960's and early 1970's, North American cattlemen were looking for new breeds to improve American beef cattle. In their search, a group of Canadians and Americans were impressed by Salers in France and eventually imported the first Salers bull, Valliant, into Canada in 1972. His semen was sold both in the United States and Canada and a new chapter in efficient beef production was about to begin.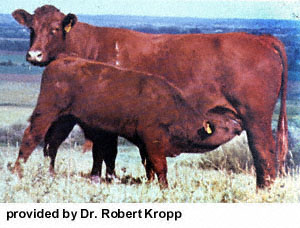 Grassroots cattlemen were the breed's U.S. founders. They felt the cattle should prove themselves under the tough rigors and conditions of the commercial cattle industry before Salers were widely marketed. The breed was equal to the challenge. Salers created a strong market interest and excitement within the commercial cattle industry. This led to the historical formation of the American Salers Association in 1974 by 14 innovative and progressive cattlemen in Minneapolis, Minn.
The first imports directly into the United States came in 1975 with the arrival of 1 bull and 4 heifers. From 1975 to 1978, 52 heifers and 6 bulls reached the United States and more than 100 arrived in Canada. These cattle are the foundation of the breed in North America.
With more than a decade of solid growth behind it, the Salers breed continues to make lasting contributions to modern commercial cattle production. Documented proof of the breed's attributes of calving ease, maternal efficiency and carcass merit, through recognized research institutions and universities, assure Salers a bright future and a viable role in beef cattle production. The "balanced breed" is meeting, and will continue to meet, the needs of the beef industry.
Registries and Breed Associations
Canada
United States
American Salers Association
19590 E. Main Street, Suite 104
Parker, CO 80138
Phone: (303) 770-9292
Fax: 303-770-9302
References