Also known by: Tolmin Cika, Bohinj Cika, Bohinjska cika, Tolminaka cika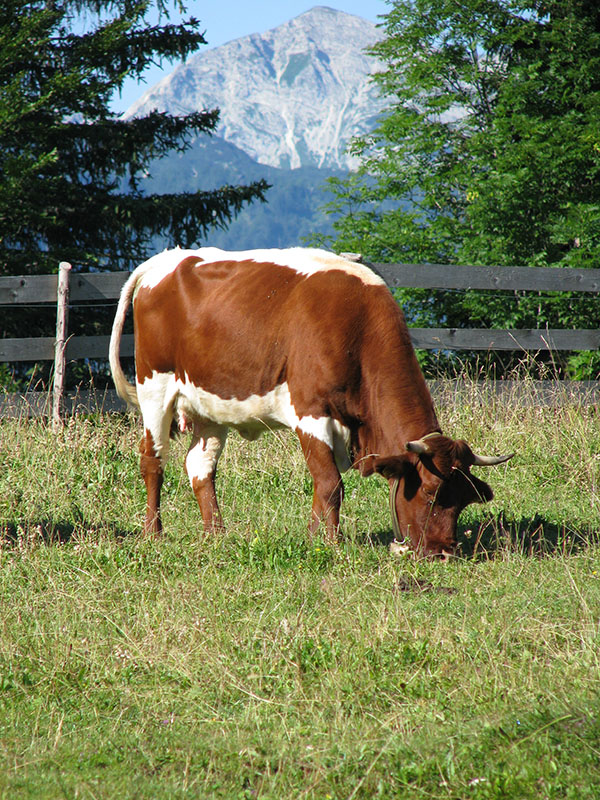 The Tolmin or Bohinj Cika, a brown piebald cow, is a lighter variety of Pinzgauer (belan) cattle which used to be the largely prevalent breed in Tolminsko, Gorenjska and the surroundings of Ormo and Ptuj in the 19th and in the first half of the 20th century. Even as late as 1964, 25% of the cows in Primorska were Tolmin Cika. Two varieties of Cika (the Tolmin and Bohinj types) have been formed from autonomous breeds, the markings of which are the same as those of a Pinzgauer; therefore, they are taken as the same variety. The Slovenian Cika is smaller than the Pinzgauer with a height of 116 - 123 cm.
In the second half of the 19th century, the Bohinj variety, the descendant of which is the Gorenjska Pinzgauer, used to weigh about 200 kg (Povse, 1893). A smaller frame is probably the result of modest breeding conditions and of a selection to a smaller frame. The Tolmin Cika were larger than the Bohinj variety (about 400 kg), due to crossbreeding of Pinzgauer bulls as well as better nutritional conditions. The Cika especially excelled in its adaptability for breeding in mountainous regions. Because of its small frame, firm hooves and low weight it is especially suitable for grazing on steep slopes, where heavy breeds could cause too much erosion. Slovenian Cika have, considering their weight and the nutritional conditions they were raised, high milk production levels with their annual production as much as six times their live weight. It is difficult to estimate the actual number of Cika type cows which have been preserved in Slovenia. This breed is almost extinct.
References
Ivan Ambroiè DVM M.V. Sci, Slovenian
Mason, I.L. 1996. A World Dictionary of Livestock Breeds, Types and Varieties. Fourth Edition. C.A.B International. 273 pp.