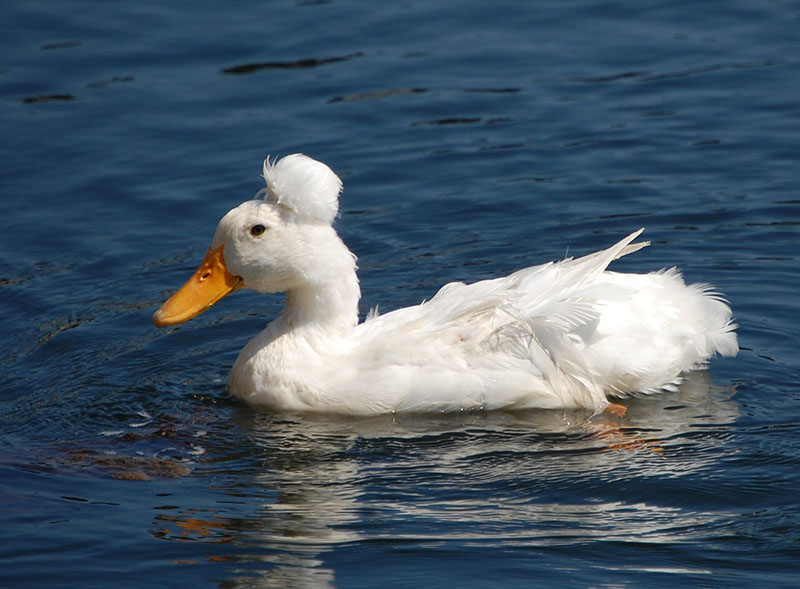 The Crested Duck origins are not precisely known but they have been around since before the 1600's. They were portrayed in Dutch paintings around the 17th century. They came to the United States around the mid-1800's and were recognized by the APA in 1874. They were later admitted to the PCGB in 1910.
Characteristics
The Crested duck has very prominent features. The bodies are carried at an angle from which the medium length neck stands straight. The beak and legs are long and pale orange on the white crested duck whereas the silver appleyard crested duck have dark gray color beaks and legs. The head is covered by a thick head crest, which looks like an afro.
Standard Weights
Drake: 3.2 kg
Duck: 2.7 kg
Varieties
Black, White and many others, different to the APA.
Uses
The Crested Duck is used for ornamental purposes.
References
All Breeds of Poultry, Origin: History: Description, Mating and Characteristics, by Frank L. Platt. Published by AMERICAN POULTRY JOURNAL, Chicago, Illinois.
Roberts, Victoria. British Poultry Standards (6th Edition). Hoboken, NJ, USA: Wiley-Blackwell, 2009. ProQuest ebrary. Web. 13 July 2015