T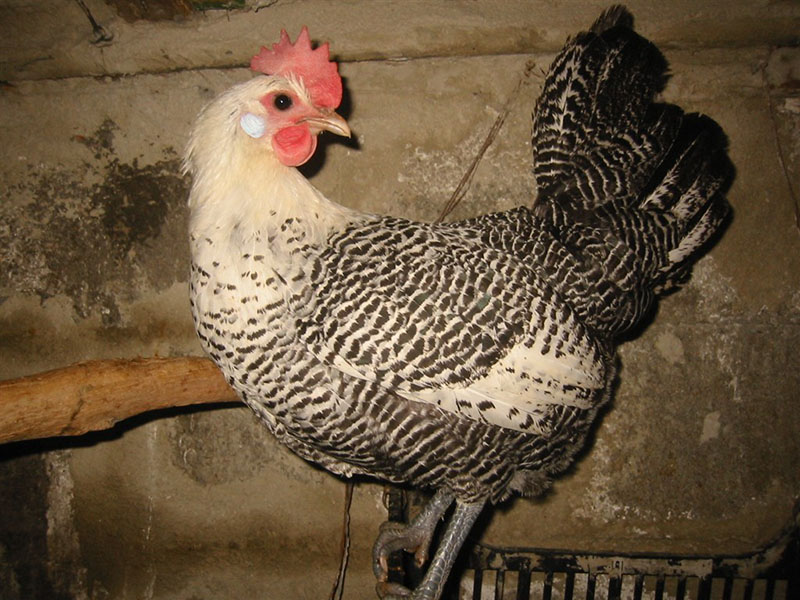 he Campine was found originally in La Campine, Belgium. It is derived from Turkish fowl. The Campine are very much like another breed that comes from the same area, the Braekel. They were imported to the United State around the late 1800's but did not take due to their inability to adapt to harsh conditions and their durability. They did, however, take in Great Britain.
Characteristics
The Campine are known for their solid colored plumage on the head and neck areas which then fade into a barring of black and the solid color. The Campine is smaller than the Braekel. The male and female look very similar since the male lacks sickle, hackle, and neck feathering at the tail and upper chest. The hens do not tend to go broody and are non-sitting fowl. They have white earlobes and single combs.
Standard Weights
Cock: 6 lbs
Hen: 4 lbs
Bantam Cock: 26 oz
Bantam Hen: 22 oz
Varieties
Golden
Silver
Uses
The Campine chicken is primarily uses as a laying chicken or as ornamental fowl. They lay many medium sized white eggs per year.
References
Chicken Breeds and Varieties (A2880), John L. Skinner, University of Wisconsin-Madison
"Campine Chickens." The Livestock Conservancy. The Livestock Conservancy, n.d. Web. 22 June 2015.
Ekarius, Carol. "Chickens: Campine." Pocketful of Poultry: Chickens, Ducks, Geese, Turkeys. North Adams, MA: Storey Pub., 2007. 44-45. Print.
Lewis, Celia. "Breed Profiles: Campine." The Illustrated Guide to Chickens: How to Choose Them, How to Keep Them. New York: Skyhorse Pub., 2011. 67. Print.
The Livestock Conservancy PO Box 477, 33 Hillsboro St, Pittsboro, NC 27312