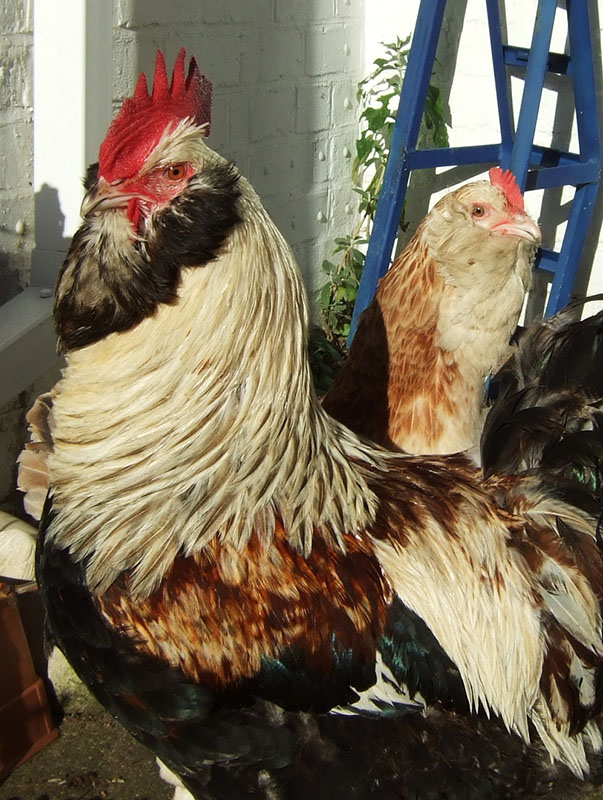 The Faverolles originate from France around the 1800's. The fowls name come from the small village in which it was found, Faverolles, a town in the region of Eure-et-Loire. The breed's history of the Faverolles is widely speculated since there are no accounts of the process from that time. The Faverolles was created through crossing different breeds with the purpose of finding a good table breed. Some theorized breeds used to create the Faverolles are as following: Houdan, Brahma, French Rennes, Flemish Cuckoo, Malines, Dorking, and Cochin. The breed eventually made its way to the United States around the early 1900's. The Faverolles were recognized by the APA first in 1914, for the Salmon coloring, then in 1981 for the white variety.
Characteristics
The Faverolles is a medium sized fowl with an abundance of feathers, giving the bird winter protection. This fowl, like the Dorking, has five toes, which is probably from a descended gene caused by a crossing between some other breed and the Dorking somewhere along the Faverolles breed line. The Faverolles is equipped with a beard and muffs on both the male and female. The wattle is barely visible or not there all together. The Faverolle has a single comb and red earlobes. The plumage is fluffy and the male is colored more brilliantly than the female, with more dark colors in the hackles and tail feathers. There is light feathering down the legs and feet. The skin and shank color is white.
Standard Weights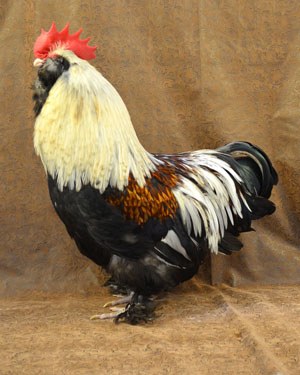 Cock: 8 lbs
Hen: 6.5 lbs
Bantam Cock: 30 oz
Bantam Hen: 26 oz
Varieties
(According to the APA)
There are many other colors for the fowl that the APA does not recognize but other countries do.
Egg Shell Color
Light brown.
Uses
The Faverolles is used for eggs and meat. This fowl will continue to lay eggs in the winter where other birds will have stopped. This bird will lay up to 150 to 200 eggs per year, depending on some factors like food and weather.
Breeder Organization
Faverolles Fanciers of America
Rose Marie Isgrigg
2106 Crabtree Road
Albany, OH 45710 USA
Office phone: 740-698-7071
Work: 740-593-2844
Email: isgrigg@faverollesfanciers.org
References
Chicken Breeds and Varieties (A2880), John L. Skinner, University of Wisconsin-Madison
Ekarius, Carol. "Chickens: Faverolles." Pocketful of Poultry: Chickens, Ducks, Geese, Turkeys. North Adams, MA: Storey Pub., 2007. 70-71. Print.
"Faverolles Chicken." The Livestock Conservancy. The Livestock Conservancy, n.d. Web. 24 June 2015.
Lewis, Celia. "Breed Profiles: Faverolles." The Illustrated Guide to Chickens: How to Choose Them, How to Keep Them. New York: Skyhorse Pub., 2011. 85-86. Print.
"Standard." Faverolles Fanciers of America. Webs, 2010. Web. 24 June 2015.