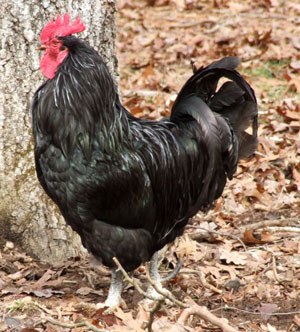 The Java originated from the United States however, sources are different as to when it appeared. It is thought to be around the time period between the 1830's and 1850's. The ancestors of the Java are Asia and might even come from the Isle of Java, which would account for the name. The breed did not reach Great Britain till the late 1800's.
Characteristics
The Java has red wattles and earlobes as well as a red single comb. The Java displays several varieties of plumage such as mottled, black, auburn, and white. The Java grows into the body, making the fowl a perfect table bird. The legs are a different color for the varieties. The mottles have a grayish leaden tinge color, white Java have yellow legs. The Java are known to be calm birds and comfortable in farm environments.
Standard Weights
Cock: 9.5 lbs
Hen: 7.5 lbs
Bantam Cock: 36 oz
Bantam Hen: 32 oz
Varieties
Egg Shell Color
Brown.
Uses
The Java is a slightly dual-purpose fowl for meat and eggs. It lays around 100-150 eggs per year.
References
Chicken Breeds and Varieties (A2880), John L. Skinner, University of Wisconsin-Madison
Ekarius, Carol. "Chickens: Java." Pocketful of Poultry: Chickens, Ducks, Geese, Turkeys. North Adams, MA: Storey Pub., 2007. 88-89. Print.
"Java Chicken." The Livestock Conservancy. The Livestock Conservancy, n.d. Web. 29 June 2015.
Lewis, Celia. "Breed Profiles: Java." The Illustrated Guide to Chickens: How to Choose Them, How to Keep Them. New York: Skyhorse Pub., 2011. 99. Print.