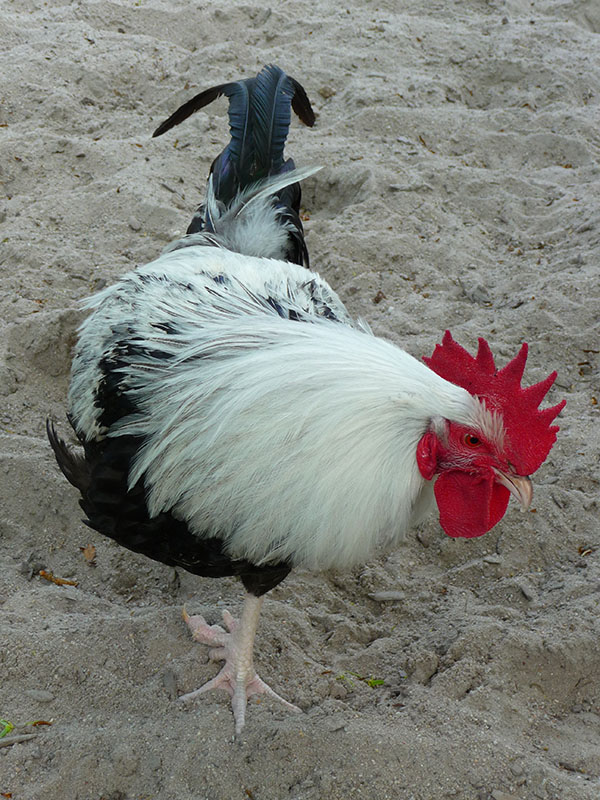 The Dorking is believed to have been introduced into Great Britain at an early date by the Romans with Julius Caesar. However, there are descriptions of this fowl going back to Columella, a roman connoisseur of agriculture. Much of its development took place in England where it gained much acclaim for its table qualities. This fowl is thought to be one of the first brought to the New World by early settlers. The Dorking is one of our oldest breeds of chickens. The Dorking was recognized by the APA in 1874.
Characteristics
The Dorking has a rectangular body set on very short legs. It is five toed and has a relatively large comb, thus requiring protection in extremely cold weather. The fowl has many different type of combs depending on variety; single in red and silver gray, rose in cuckoo and white, Single or rose in dark. Dorkings are good layers with around 150 to 200 eggs per year. Most Dorking hens will go broody, make good mothers and are quite docile. Because of their white skin, Dorkings are not as popular in the U.S. as in Europe. The Dorking do not thrive well in confined spaces, however, they are not prolific scratchers. The skin is white and the shanks are pale gray color.
Standard Weights
Cock: 9 lbs
Hen: 7 lbs
Cockerel: 36 oz
Pullet: 32 oz
Varieties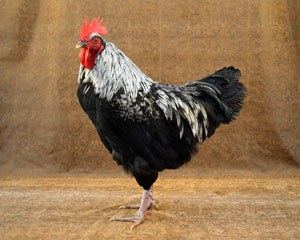 (According to the APA Standards)
White
Silver-gray
Colored
Egg Shell Color
White.
Use
A good, general purpose fowl for producing meat and eggs. It was developed for its especially fine quality meat. The Dorking is especially good for winter laying.
References
Chicken Breeds and Varieties (A2880), John L. Skinner, University of Wisconsin-Madison
"Dorking Breeders Club." Dorking Breeders Club of North America. Webs, n.d. Web. 24 June 2015.
"Dorking Chicken." The Livestock Conservancy. The Livestock Conservancy, n.d. Web. 24 June 2015.
Ekarius, Carol. "Chickens: Dorking." Pocketful of Poultry: Chickens, Ducks, Geese, Turkeys. North Adams, MA: Storey Pub., 2007. 66-67. Print.
Lewis, Celia. "Breed Profiles: Dorking." The Illustrated Guide to Chickens: How to Choose Them, How to Keep Them. New York: Skyhorse Pub., 2011. 83. Print.