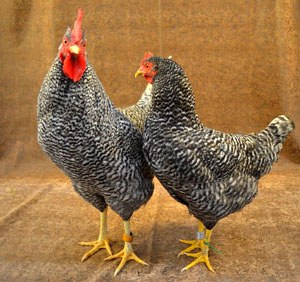 The Holland was developed on the East coast, in New Jersey, United States despite the name. In the mid-1930's there was a demand for white eggs, since they were thought to be more or a delicacy. During this time there were a lot of dual-purpose fowl, however, most only laid light brown eggs. Breeders developed a dual-purpose bird that laid white eggs. The Holland was developed from fowl imported from Holland and the White Leghorn, Rhode Island Red, New Hampshire and the Lamone. The Holland was recognized by the APA in 1949.
Characteristics
The Holland is a meaty bird with yellow shanks, pale yellow beak, red wattle and earlobes and a single comb. The plumage is close together and varied in color, depending on the variety. The feathering around the legs in minimal, leaving the appearance of long legs. The Holland are comfortable on farms. The fowl can live in tolerably cold conditions however, in extreme conditions there maybe frostbite on the combs of the male. The females, on occasion, go broody.
Standard Weights
Cock: 8.5 lbs
Hen: 6.5 lbs
Bantam Cock: 34 oz
Bantam Hen: 30 oz
Varieties
Egg Shell Color
White.
Uses
The Holland is a dual-purpose fowl for meat and eggs. The Holland is a prolific layer and lays large eggs.
References
Chicken Breeds and Varieties (A2880), John L. Skinner, University of Wisconsin-Madison
Ekarius, Carol. "Chickens: Holland." Pocketful of Poultry: Chickens, Ducks, Geese, Turkeys. North Adams, MA: Storey Pub., 2007. 78-79. Print.
"Holland Chicken." The Livestock Conservancy. The Livestock Conservancy, n.d. Web. 29 June 2015.