American Cream Draft Horses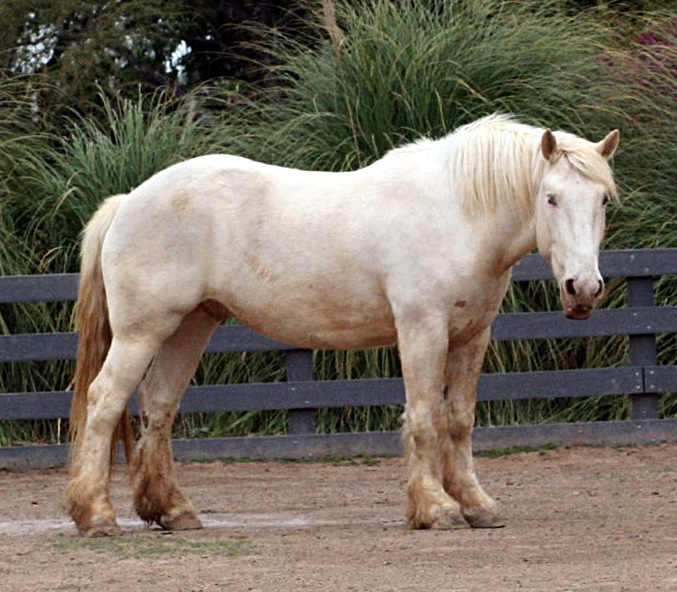 'Old Granny' the first known American Cream, appeared at a farm sale in Story County, Iowa, in 1911. By approximation, her foaling date was somewhere between 1900 and 1905. She appeared to have nothing but draft breeding in her bloodlines. A veterinarian, Eric Christian, was very much attracted by the beauty of her foals and persuaded Nelson Bros. of Jewell, Iowa, to keep a colt, Nelson's Buck, for a stallion, and create a new breed of horses having rich cream color, white mane and tail, pink skin and amber colored eyes.
Records gleaned from early registrations confirm that 'Old Granny' was mated to Belgians, Percherons, Greys, Dunns, and Sorrels; all being of draft bloodlines and often the rich cream, pink skin, white mane and tail and amber eyed foals were dropped. The stallion having the greatest influence on the American Cream, Silver Lace, was foaled in 1931 out of a Farceur Belgian mare and Knox. Silver Lace had a narrow blaze running down his face. At maturity he was 16 hands and weighed 2,230 pounds. Knox as foaled in 1926 by a bay grade Shire mare out of Yancy. Yancy, the only son of Nelson's Buck to be registered, was foaled in 1923 to a black Percheron mare. Nelson's Buck, the first known stallion out of 'Old Granny' arrived in the spring of 1920. Though sired by a black Percheron, he was just as cream-colored as 'Old Granny' his dam.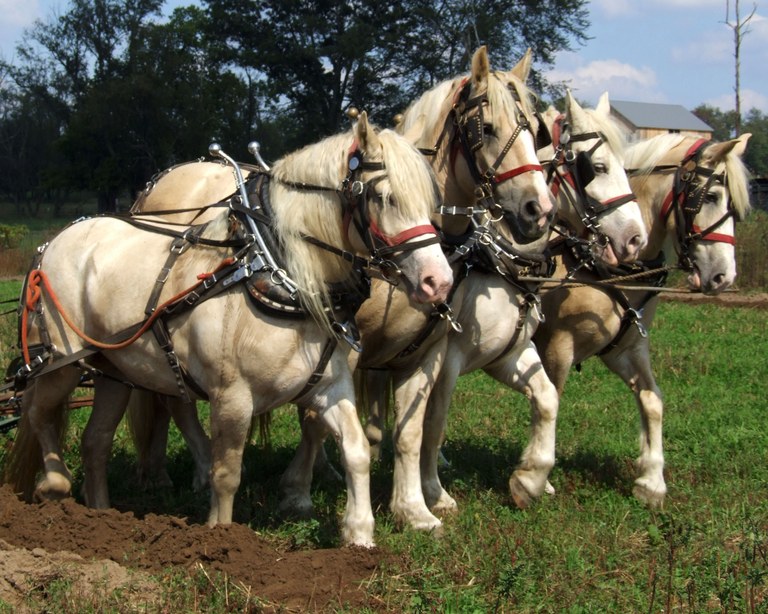 C.T. Rierson of Hardin County, Iowa, became interested in the attractive new horses and began buying all the good cream colts sired by Silver Lace that he could find for sale. With the help of the horses' owners, he meticulously recorded the ancestry of each horse. Rierson became the founding force behind the America Cream Horse Association of America. Thanks to his persistence, on July 11, 1944, a charter was issued by the State of Iowa to a group of 20 charter members of the American Cream Horse Association of America. This culminated nearly 40 years of interest in creating a new breed of draft horses originating in Iowa.
In 1944, Rierson wrote: "I have 16 head of them now and have sold five to new breeders since we started our organization. These horses are all descendants of our old cream colored mare, brought into this territory over 30 years ago. She and her descendants were mated with both Percherons and Belgians and, in later years, inbreeding and line breeding has been practiced with many good results in both type and color. They have style and action and a good disposition. They are making a class for them at the Webster City, Iowa, Fair this year. This is the county in which they originated and it will be the first time they have been shown in a class by themselves." It was at one of these fairs, that the inspiration for the name of "American Cream" came to him. The name seemed particularly appropriate since these horses are entirely American to the best of our knowledge and they do have the rich cream color.
In November 1948 the National Stallion Enrollment Board recommended the American Cream Horse Association of America for recognition on February 15, 1950, they were recognized as standard by the Iowa Department of Agriculture, giving them all the privileges granted to older established breeds in the state.
By the late 1950's, 41 members had registered 200 animals. As tractors replaced horses in the fields, many draft horses met their deaths at the canneries. Arnold Hockett of Estherville, Iowa, was one of the few who continued working his fields with Creams. He, and another farmer, Richard Eads, of Lanark, Illinois, hung onto their Creams. In the late 70's, Arnold and Richard, together with two other Cream enthusiasts, William Walczak of Sheboygan, WI and Clarence Ziebell of Charles City, Iowa began encouraging Karene Bunker Topp, Secretary of the inactive association, to call a meeting for the purpose of reorganizing and registering the creams they owned. In the fall of 1982, seven persons met at Dubuque, Iowa, and officially reorganized and reopened the books to permit the registration of dark skinned females while retaining the ruling that all males have pink skin in addition to the other requirements.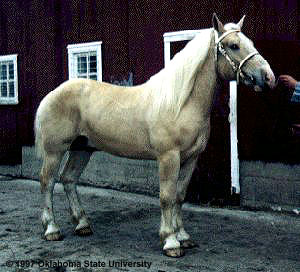 The breed was placed on the endangered species list by the American Livestock Breeds Conservancy, information about the breed was organized, and E. Gus Cothran, Director of the Equine Blood Typing Research Laboratory at the University of Kentucky offered to blood test American Cream horses. His results stated that "compared with other draft breeds and based upon gene marker data, the Creams form a distinct group within the draft horses. The Creams are no more similar to the Belgian than they are to Suffolks, Percherons, or Haflingers". Many had thought that the Cream was only a color breed, but this research proved otherwise.
In the 1950's the percentage of Cream foals dropped having both a Cream sire and dam had risen to nearly 80%. Stallion reports being submitted today do not indicate that high a percentage but it is increasing.
One hundred fourteen American Creams have been registered since 1982. Full membership is open to owners of American Creams and Associate membership is available to anyone interested in the American Creams and the Association but not owning an American Cream draft horse. Thirty-four members own ninety registered American Cream draft horses and 28 Associate members are interested in and help to fund the work of the Organization by yearly dues.
In 1993 the members voted to amend the Articles of Incorporation to change the name of the Association to American Cream Draft Horse Association and to extend the Charter to perpetual duration. This Document was filed with the Secretary of the State of Iowa on April 28, 1994.
The American Cream Draft horse is classified as a medium-heavy draft type. The average weight of mares being 1600 to 1800 pounds at maturity. Stallions will weigh from 1800 pounds to a ton. They will stand 15 to 16.3 hands. We find this size most desirable for those harnessing, hitching, and driving these easily trained, good disposition, willing to work, Cream of Draft Horses, today.
References