Also Known By: Dülmener (German), Münsterland
The Dülmen Pony is a riding horse found in the region of Germany surrounding Münsterland, Westphalia. They are found in all colors and originated from the semi-feral herd found on the Duke of Croy's estate at Meerfelder Brunch. They stand at 12 - 13 hands high. The Dulmen are the last of the ponies of German origin living in the natural condition of the Merflder Bruch, where they can be trace back 600 years.
Due to the hardness, independence, and endurance the Dulmen is strong and reliable which are good combinations for farm work. It is considered a great riding horse for children. Their calm nature makes it easy to tame them and pull various heavy loads with harnesses.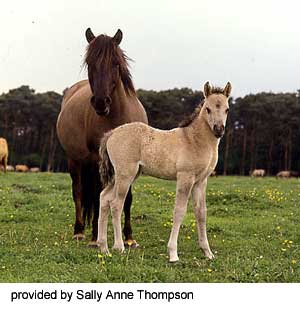 References
Mason, I.L. 1996. A World Dictionary of Livestock Breeds, Types and Varieties. Fourth Edition. C.A.B International. 273 pp.
Hendricks, Bonnie L. "Dulmen." International Encyclopedia of Horse Breeds. Norman: U of Oklahoma, 1995. 158-60. Print.