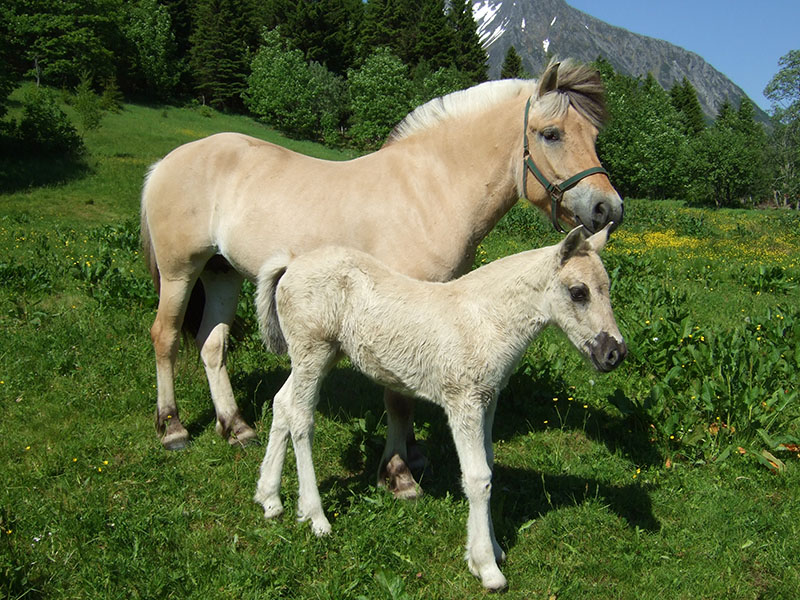 Also Known By: Fjord, Norges Fjordhest (Norwegian), Fjording, Nordbag, Nordfjord, Northern Dun, Norwegian Dun, Norwegian Pony, Vestland, West Norway, West Norwegian
The Norwegian Fjord (pronounced Fee-ord) Horse is Norway's oldest horse breed. It is estimated that the original Fjords migrated to Norway and the Scandinavian peninsula over 4,000 years ago and they were domesticated about 2,000 B.C. They have been selectively bred in Norway for over 2,000 years and the first directed selection program began in the mid-1880's. The original Norwegian Fjord varied in color and averaged 12.1 hands in size. Selection has increased the height to 13 to 14.1 hands and the breed is one of the few modern breeds exhibiting only the primitive or dun coloration.
This pony was used by the Vikings for war mounts and they were also thought to be the first western Europeans to use horses for farming and the horses they used were the versatile Fjord pony. It is thought that all present-day draft breeds in western Europe are descended in part from the Norwegian Fjord.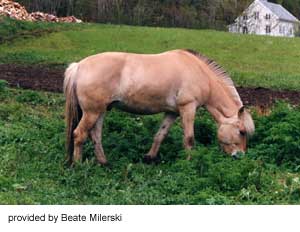 All breeding in Norway is now controlled by a Norwegian government agency. Only champion stock can be exported. The Fjords now have registries in Canada, the United States, Great Britain, Germany, the Netherlands, Belgium, Denmark and Sweden. Approximately twenty-two Fjords have been imported to the United States, most of them in the middle 1950's. Their descendants and a few of those originally imported are scattered throughout North America.
The Fjord Horse is distinguished by its unequaled dependability. For centuries Norwegian breeders have been determined to improve the breed while emphasizing the calm and gentle temperament. They are easily broken and need no retraining, even after spending months at pasture untouched.
These dun-colored horses are nearly identical to the unfamiliar eye, with distinct and spectacular markings. Each has a dark dorsal stripe, initiating in the center of the forelock and running through the center of the mane, back and tail. Dark bars on the legs and black fetlocks complete the description. Stallions stand 14 to 14-2 1/2 hands while the mares are 13-1 to 13-3 hands.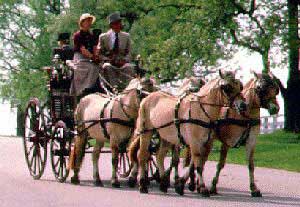 The Fjord's strength, clean lines and exceptionally adaptable nature have made them equally well suited to harness or saddle. They can be ridden English or Western, hunted, or driven in shows, parades and down country roads. Their mild manner makes them an ideal family horse, ridden or driven as easily by the novice or youngster as by the knowledgeable adult horseman.
Registries and Breed Associations
Canada
Canadian Fjord Horse Association
c/o Gatha O'Reilly
Box 1 Site 203 RR 2
Tofield Alberta T0B 4J0
Phone: (403) 922-6231
Netherlands
Het nederlandse fjordenpaarden stamboek
krimweg 125
7351 TL Hoenderloo
Phone: 055 - 3781344
Norway
Norges Fjordhestlag
Norsk Hestesenter
Starum
2850 Lena.
Fax: 47 61 14 10 90.
Email: nhest@nhest.no
Scotland
Fjord Horse Registry of Scotland
South Denhill
St Katherines
Inverurie, Aberdeenshire
Scotland, AB51 8SU
Phone: 01651-891712
Email: FHRS@fdn.co.uk
United States
Norwegian Fjord Horse Registry
Executive Director
PO Box 685
Webster, NY 14580-0685
Phone: (585) 872-4114
Email: info@nfhr.com
References
Kentucky Horse Park, 4089 Iron Works Pike, Lexington, KY 40511
Correspondence, Bonnie Hendricks, author of "International Encyclopedia of Horse Breeds" published by University of Oklahoma Press.
Mason, I.L. 1996. World Dictionary of Livestock Breeds. Fourth Edition. C.A.B International. 273 pp.