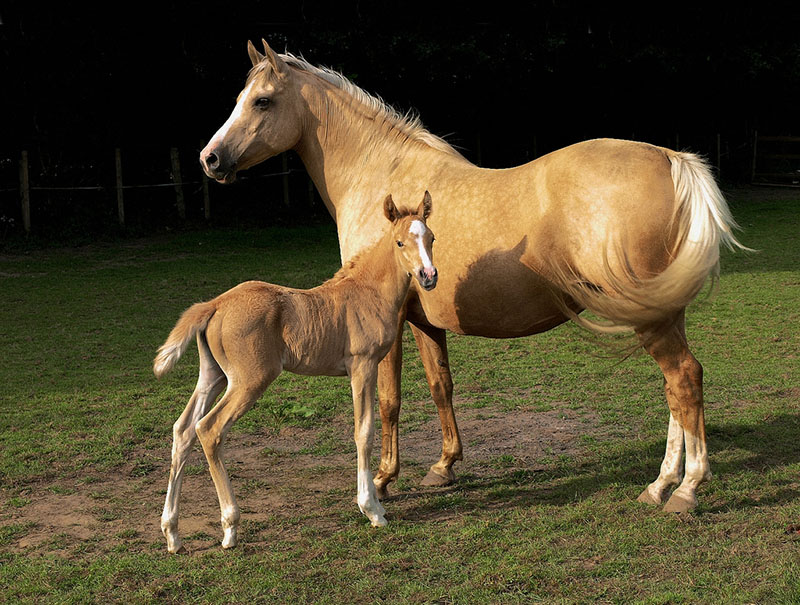 The modern day Palomino Horse has a legacy to follow and a promise to fulfill. This golden horse, who was the choice of ancient emperors, kings and queens, the beloved steed in Greek mythology, the subject of artists' canvas, the pride of Queen Isabella's Spanish court, the treasured mount of ancient tribes and companion of the Conquistadors, is still with us today. He was tamed by the Indians of the Southwest, rediscovered by today's horse lover, made a star on the "Silver Screen" and exhibited at horse shows throughout the world.
Palomino horses are found among the finest bloodlines of breeds; their appeal is international.
Palomino Horse Breeders of America, Inc.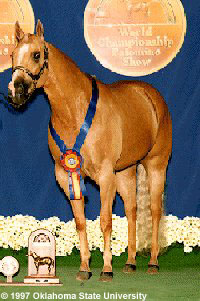 The Palomino Horse Breeders of America, Inc. (PHBA) was originally formed in California around the late 1930s, by a group of horsemen and horsewoman who had a passion for the golden horse. PHBA was incorporated in Los Angeles County, California, on June 25, 1941, as a member-owned, non-profit organization for the purpose of registering and improving the breeding of Palomino Horses. On October 23, 1946, PHBA was incorporated in Palo Pinto County, Mineral Wells, Texas. The international headquarters was located there until December 31, 1984. Relocated in 1985, PHBA is now on the heavily traveled Interstate 44 in a 7,000 square feet building on the northeast side of Tulsa, Oklahoma, U S A.
This Association was organized for the purpose of providing for the registration, preservation of purity of blood, and improvement in breeding of Palomino horses; and to keep, maintain, and publish in a suitable form the history, record and pedigree thereof. Palomino Horses Magazine and the PHBA Rule Book are the official publications of this Association.
Registration Requirements
PHBA is a color registry for horses standing between fourteen and seventeen hands tall and exhibiting body color, with variations from light to dark, of a U S fourteen karat gold coin. The skin is usually gray, black, brown, or motley without underlying pink skin or spots except on the face or legs. The eyes are usually black, hazel, or brown. The mane and tail must be white with not more than fifteen percent dark, sorrel or chestnut hairs.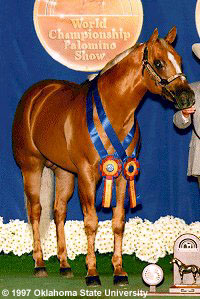 There are three basic divisions of Palomino horses. The stock type are western horses predominantly represented by Quarter Horses. The Golden American Saddlebred are typically represented by Saddlebreds and the pleasure type exemplified by Morgan, Arabian, and Tennessee Walking Horses.
Individuals who own Palominos that are registered with the American Morgan Horse Association, American Quarter Horse Association, American Saddlebred Horse Association, Arabian Horse Registry, International Arabian Horse Association, Jockey Club, and the Tennessee Walking Horse Breeders and Exhibitors Association have the option of filing for registration and participating with the PHBA.
Pictures or inspections of horses registered with the above recognized breed associations are not required.
Palomino Horses not registered with the above recognized breed registries are eligible for registration with PHBA if one of the parents is registered with the above recognized breed registries. Horse owners are asked to provide documents to verify bloodlines.
Horse enthusiasts who own Palomino geldings and spayed mares with unknown parentage may also apply for registration based on color and conformation standards.
References
The photographs and information contained on this page are provided courtesy of Palomino Horse Breeders of America, 15253 E. Skelly Drive, Tulsa, Oklahoma 74116-2637.