American Creme and White Horses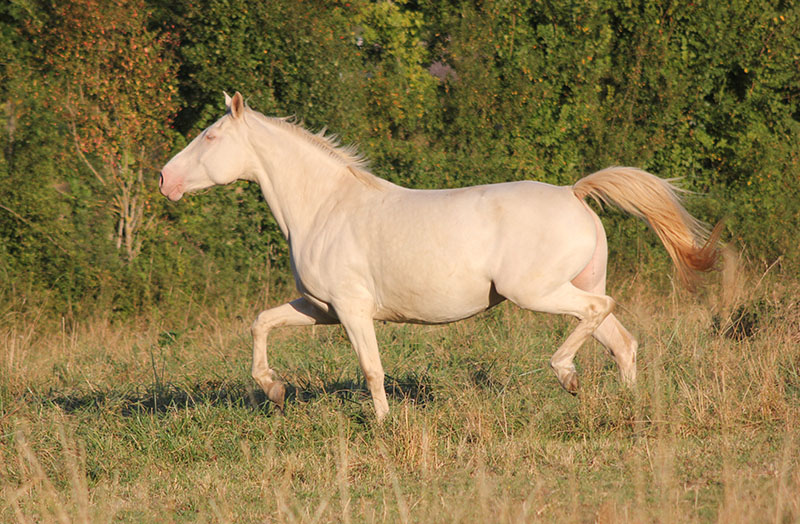 Also Known By: American Albino
In 1908 Old King was born. Owned by Professor William P. Newell of Illinois, Old King was true white, pink skinned and had dark brown eyes (as do 90 percent of his progeny). In size he stood 15.2 hands and weighed about 1200 lbs. He was of a very stocky, well muscled with a broad chest, deep girth, sloping croup, strong straight legs, heavy crested neck, thick, long and wavy mane and tail, broad between the eyes, well shaped ears, intelligent and gentle. Versatile, he was trained for riding, parading, driving and high school routines. He also had the ability to pass his qualities on to his progeny. His foal crops when bred to colored mares was 50 percent white, 50 percent colored. His descendants achieved 75-80% white progeny.
He was purchased by Caleb R. and Hudson B. Thompson of West Point, Nebraska in 1917 to be the foundation of a new breed of horse they hoped to develop. With Old King as a sire and Morgan mares (a few with mixed bloodlines), and using very select, scientific inbreeding methods the brothers were successful in their dream. Old King contracted swamp fever in 1922 and eventually passed away from its effects in 1924 at age 18.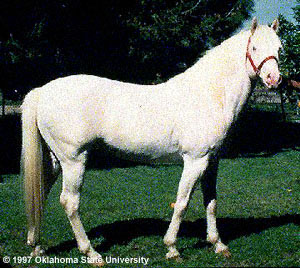 In 1936 Caleb (Cal) married Ruth Hackenberg Thompson and Hud decided to drop out of the horse business to pursue ministerial ambitions. Cal & Ruth continued breeding and promoting the horse now known as the American Albino horse. They developed the White Horse Troupe as their main tool of promotion and toured throughout the United States and southern Canada. They and their horses became known internationally. They sponsored a training and riding school for underprivileged youth from which they selected gifted children to travel as performers in the troupe. Most of the riders were in their late teens although a few were between ages five and twelve. Some of the features of the famous troupe were: Six horse tandem roman ride, five horse roman teams, both teams jumping hurdles with a rider standing on their backs; high and broad jumping including jumps over convertible cars and over human hurdles; high schooled acts (both dressage and trick) and wildest rescues of damsels in distress from "runaway" stages. The performers rode their horses bareback and had some specialty acts in which the horse was ridden without bridle or saddle over the hurdles. Jumps averaged 3 feet in height with the high jumps being five feet in height.
The Thompsons and their troupe showed with such famous personalities as Gene Autry, Red Ryder, Minnie Pearl, and Tex Cooper. Some of Old King's progeny went on to be movie stare and mounts for important dignitaries. One horse was sold to a prince from India. Another named Constitution was provided for Admiral Haley to ride in the Victory Parade in Now York City following the end of World War II. Another portrayed Thunderhead in the movie of the same name. Emperor Hiro Hito's mount Silver Tip, although not a descendant of Old King's (he was a California bred cowpony, was registered in the AAHC).
The Thompsons found it necessary to develop a system of recording progeny. Thus in 1937 the American Albino Horse Club (AAHC) was incorporated to record the progeny of Old King. The first horse registered was Old King's grandson, Snow Chief 2nd who set the standard of excellence for the new breed. Ranch breeding records had been kept on the foundation mares' and Old Kings progeny. Snow Chief 2nd sired 66 foals before having a winter accident on an icy spot in his paddock resulting in a broken neck. However, he had left a breeding legacy in his son, White Wings, who sired 108 foals, all but three being white. White Wings was the star performer in the Thompson's White Horse Troupe and knew about 50 tricks. He was so gentle he was exhibited many times by a ten-year-old girl performer.
The original foundation bloodline horses were predominantly organ breeding and stood 15.2 - 16.2 hands weighing 1,100 - 1,300 lbs. Versatile, they were used for driving, farming, riding, jumping, dressage and circus routines, many times one horse accomplishing most of the above.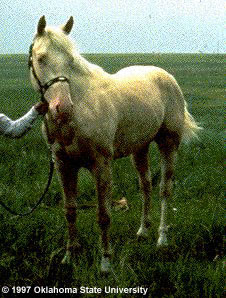 Eventually the books were opened to horses of like color, but not necessarily of Old King breeding. Thus, the American Albino Horse Breed became a color breed in the full sense of the word. Both draft breeds and pony breeds were to be included under their own type. To qualify a horse had to have a true white coat (no ivory cast to the coloring), pink skin and dk. brown, black, hazel or blue eyes. Equine genetic experts claim that horses have never been known to throw pinkeye foals. Therefore, all eye colors are now accepted.
In 1963 Cal Thompson passed away and poor health made it necessary for Ruth Thompson to sell off her beautiful herd which now numbered over 150 head and move to Oregon where her family lived. She continued to maintain the registry, however, as well as retaining a few of the best horses for herself, one of them being her favorite stallion, Thompson's Abraham. She reincorporated the registry under the name The American Albino Association. This was superseded by the World Wide Horse Registry in the early 70's and a second division for cremallo and perlino horses to be called American Creme Horse was added. At this time the horse known formerly an American Albino became the American White Horse.
In 1985 Ruth Thompson returned the registry to the state in which the breed was developed, Nebraska, and reincorporated as the International American Albino Assn., Inc. which is the current title of our registry.
In 1989 Ruth, always looking to the future of the breed, enlisted the help of Dean and Carley Daugherty to restore the White Horse Ranch, foundation home of the breed. Desiring also to preserve the breed, she bought two mares, Morning Star and Snow Queen from Minnesota breeders Lester and Lois Novotny to whom she had previously leased her stallion, Thompson's Abraham. She already had a two-year-old filly, Abraham's Sweetheart at the ranch. With the three mares and stallion, Abraham's Knobhill Pockets, leased from Elaine Althaus, also of Minnesota, the White Horse Ranch was once more home to the progeny of Old King.
The Nebraska State Historic Society nominated the ranch to be listed on the National Registry of Historic Places in 1989. On July 5th, 1990 it was accepted as a historic site. Also in 1990 Ruth Thompson was inducted into the Cowgirl Hall of Fame, Hereford, Texas for her work in developing a new breed of horse.
Current uses for this versatile horse brood are: driving, English show and pleasure, Western show and pleasure, parade, entertainment industry, endurance competition, jumping, and working stock horse. Because of the varied bloodlines from most major breeds, there is really nothing these horses can't do. There have even been a few albino Thoroughbred race horses in Europe.
The IAAA sponsors an annual high points awards program. The American Whites and American Cremes have proven themselves many times over to be great show horses as they bring home top honors in open classes while competing against their darker colored counterparts.
Many misconceptions continue to be circulated about the Whites and Cremes, however they do not have "weaknesses" commonly associated with albino types. They do not go deaf or blind or loco. They have great strength and athletic ability. With good care they have been known to live into their thirties and on occasion into their early forties. Average life span in mid-twenties. Ruth Thompson's stallion, Thompson's Abraham, lived to be 29 years old. Snow White, one of her performing mares was sold in 1963 at age 31 with a foal at her side. She lived several more years and won blue ribbons for her young mistress in western pleasure classes.
On the negative side, however, it is true that pink-skinned horses are more sun sensitive, although this varies from horse to horse. It is not true that they are "harder to keep clean" but it is a fact that when they are dirty, it is more evident.
Characteristics of the Breed
Being a color breed conformation in the American White and American Creme will vary according to each individual's bloodlines. Those descendants of the foundation sire, Old King, continue to follow the conformation listed earlier, with one exception: the height requirements allow for shorter horses. Many are in the 14h - 14.2h range now.
The American White, regardless of breeding, must have pink skin and truly white coloring ... no slight pigmentation of hair allowed. A few, small scattered spots are permissible (Usually found around eye, chest, and on genital areas, but only on skin, not on hair, these spots frequently are not exhibited until the foal approaches 18 months in age.). The various eye colors common to horses are acceptable including amber and very pale blue and parti-colored.
Eye color in horses which can trace their ancestry to Old King is 90% likely to have dark brown or black eyes.
The American White will reproduce 50% white when bred to colored stock. It will sometimes have a colored foal, however, when bred to a white mate. The Whites do not dilute color as do the Cremes with exception being when a White has a Creme ancestor and thus carries a creme gene. High rates of white have been obtained when sire and dam both trace from long lineage of white ancestors. We have one mare who, having been bred to a chestnut stallion, produced six out of seven foals white, far above the expected 50% level.
The American Creme must also have pink skin which in some cases may take on a deeper tan color which we refer to as "pumpkin". However, its coat color may vary from a pale ivory (so close to white some people mistake it for white) to a deeper rich cream. Mane and tail may vary from true white through varying shades of cream to a rich cinnamon-buff. Eyes of the American Creme are usually a pale color, i.e. pale blue or pale amber, and rarely dark, although brown eyes are possible.
The American Creme will reproduce its color 100% when bred to a Creme. However, when bred to a colored horse it will dilute color, is.: Chestnut X Creme = Palomino, and Bay X Creme = Buckskin or Dun. This is a simplified genetic explanation as color of ancestors also will enter into the picture when breeding Cremes to other colors.
References
International American Albino Assn., Route 1, Box 20, Naper, NE 68755. Phone: (402) 832-5560