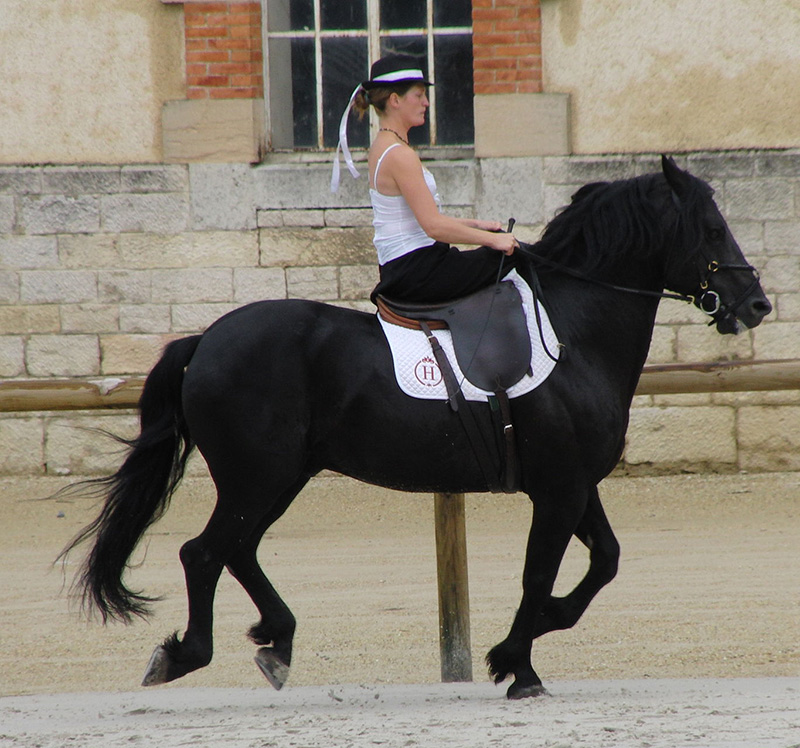 Also Known By: Race ariègeoise de Mérens, Mérenguais
The Mérens Pony is native to the Ariège Pyrenees, having the name of a village in the high mountains close to Andorra. Paintings of horses strikingly similar to the Mèrens are found on the walls of the cave at Niaux. Gentle, hardy and economical, the Mèrens horse has long been a companion to the "Montagnol" (mountain farmer) and the soldier, notably with the armies of the Count of Foix Gaston Phoebus in the Middle Ages, and later Napoleon during the Russian campaign.
More recently, the Mèrens horse has been used for work in the fields, plowing and hauling. His suppleness and surefootedness allow him to work well on the steep hillsides.
For leisure activities he is equally at ease in the harness or with a rider. His gentle disposition makes him a favorite with children.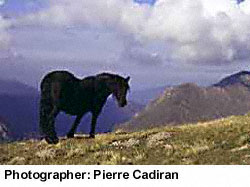 In all these activities our little black horse reveals himself to be generous and devoted to his master, providing he has been well taught. As with all ponies he has a strong character, and one must be firm to make him work.
In Ariège, most of the breeders raise the horses in the open air year-round. The foals are born in the spring snow, and there are rarely any problems. In June the herd is led up to the summer pastures to spend several months in total freedom in the high mountains. This life with the herd gives the Mérens horse the mental balance for which he is known.
Animals within the breed are remarkable similar, perhaps due to the long isolation. The Mérens is black with white markings being rare. Gentle and very solid in build these ponies work well with young riders but can easily carry an adult also.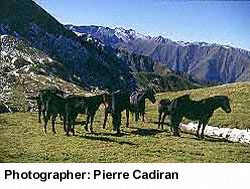 The Mèrens horse is increasing in popularity and is exported to Italy, the Netherlands, Germany and Tunisia. In 1997 the association SHERPA, which promotes the race, made a gift of a young Mèrens to British Prime Minister Tony Blair, who has vacationed in Ariège for many years.
While Mèrens horses are increasingly bred in other regions of France and even other countries, an authentic Mèrens is one who has run free in the high Pyrenees like his ancestors thousands of years ago.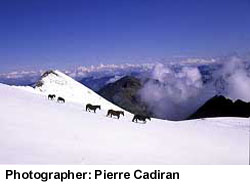 The Mérens resembles another ancient breed, the Fell pony and to the larger Friesian horse. This breed is rare.
References
Kim Chevalier, Ariège - Mountains of History and Pleasure
Hendricks, Bonnie L., International Encyclopedia of Horse Breeds, Univ of Oklahoma Press, 1995.
Mason, I.L. 1996. A World Dictionary of Livestock Breeds, Types and Varieties. Fourth Edition. C.A.B International. 273 pp.