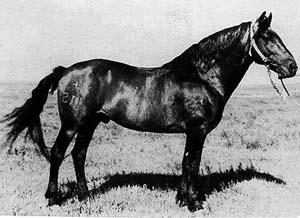 The Sanhe is found in the northeast of the Inner Mongolia Autonomous Region and is used mainly for riding and carting. Sanhe means three rivers in Chinese which is descriptive of the basin forming this region in China. It has some of the best grassland found in China. The Sanhe breed is considered the most developed of the Chinese horse breeds.
About 1000AD, during the Liao dynasty, the region was known for the quality of its horses, some of which were sent to the emperors by nomadic tribes. 700 years later during the Qing dynasty the Soulun breed was bred in this area. The Soulun were famous for their appearance and performance under a saddle. These horses were used as cavalry horses against invaders.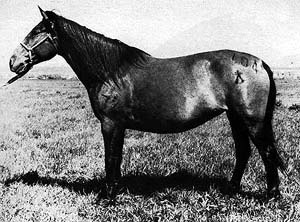 During 1904 and 1905 Russian Zabaikal horses were brought through the Baikal and crossed with the local breed. Orlov and Bechuk horses were brought to the area in 1917 by Russian settlers to the area. From 1934 through 1945 a stud farm was established by the Japanese with records of Anglo-Arab, Arab, Thoroughbred, American Trotter and Chitran horses. In 1955 the Ministry of Agriculture of the Peoples Republic of China began an assessment of the crossbred horses of the area and established two stud farms to develop a new breed under the name Sanhe.
Sanhe horses are compact and muscular. The Sanhe are usually either chestnut or bay, other colors are rare. The Sanhe is used for racing, saddle and harness work. The horses are generally well made with a sloping shoulder and the strong joints, muscling and hard hooves typical of the Chinese breeds
References
Cheng. P. (1984) Livestock breeds of China. Animal Production and Health Paper 46 (E, F, S). Publ. by FAO, Rome, 217 pp.
Hendricks, Bonnie L., International Encyclopedia of Horse Breeds, Univ of Oklahoma Press, 1995.