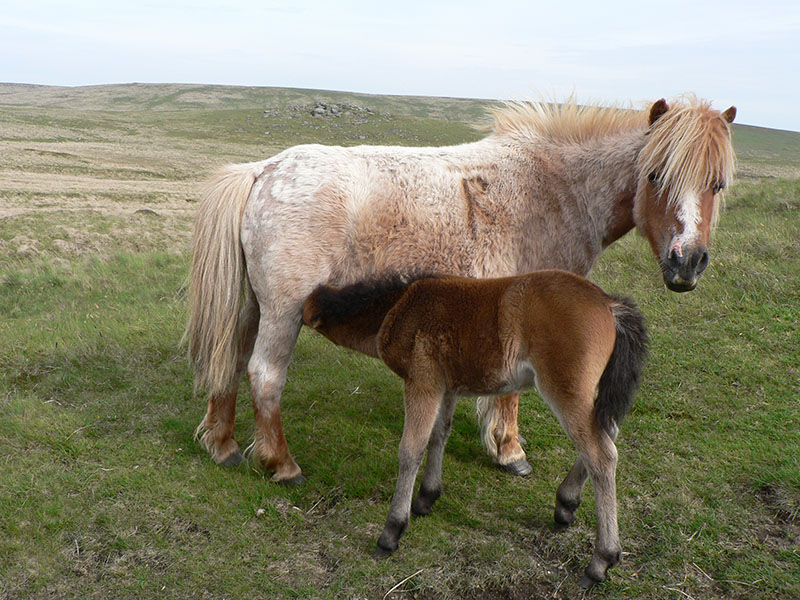 The Dartmoor Pony is one of nine breeds native to the British Isles. The area from which it originates is a rocky, barren, moorland called Dartmoor in Devon, England. The sparse grazing and bleak conditions of this moor ensure that only the toughest of its inhabitants thrive.
Dartmoor Ponies have roamed the moor for many centuries. One of the earliest recorded references to these ponies is in the will of a Saxon Bishop, Awlfwold of Crediton, who died in 1012. During the reign of Henry I (1100-1135), when Dartmoor was a royal forest, a stallion was taken from the moor and was used breeding with the royal mares. Many years ago, tin mining was an important industry in the Southwest of England. Many Dartmoors were used as pack ponies, carrying the tin from mines to the surrounding towns. When the mines closed, most of the ponies were turned loose to roam the moor, except for a few retained by local farmers for use on the farms. At the start of the Century, officials from the High Security Dartmoor Prison, situated in Princeton, a town in the middle of the moor, were raising good quality though unregistered ponies. Prison guards would use the ponies when escorting work parties to and from the prison. This continued until the 1960's.
Preservation Efforts
Since 1988, positive steps have been undertaken to restore the more pure-type Dartmoor Pony to the Moor. Typically, mares belonging to Moor farmers have been run with a pedigree registered stallion on an enclosed part of the moor for the summer. These mares are then returned to the open Moor until they foal. It is hoped that this will encourage the farmers to return to breeding the true purebred Dartmoor. The benefits will be two-fold: to create a new genetic pool available to breeders; and to give the tourist a chance to see the true Dartmoor Pony flourishing in its native environment.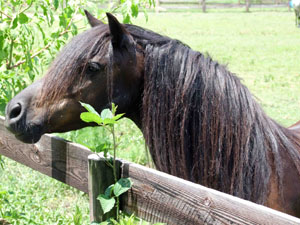 Today, Dartmoor ponies are found all over Great Britain, and are also found in other European countries including France, Germany, and Sweden. They have also been exported to Australia, Canada, the U.S., and even to the Falkland Islands. Though the breed is making its way into several other countries, their numbers are low compared to other popular pony breeds. It is estimated that there are fewer than 5,000 Dartmoor Ponies worldwide, with less than 200 purebred Dartmoors here in the United States.
Registries and Breed Associations
United Kingdom
United States
American Dartmoor Pony Association
203 Kendall Oaks Dr.
Boerne, TX 78006
phone (830) 249-8103
e-mail: ADPAsec@aol.com.
Fax: (830) 249-7322
Dartmoor Pony Registry of America
295 Upper Ridgeview Road
Columbus, NC 28722
(828) 894-5672
dartsec@teleplex.net
References
American Dartmoor Pony Association, 203 Kendall Oaks Dr., Boerne, Tx 78006
Phone: (830) 249-8103
Email: ADPAsec@aol.com.
Fax: (830) 249-7322