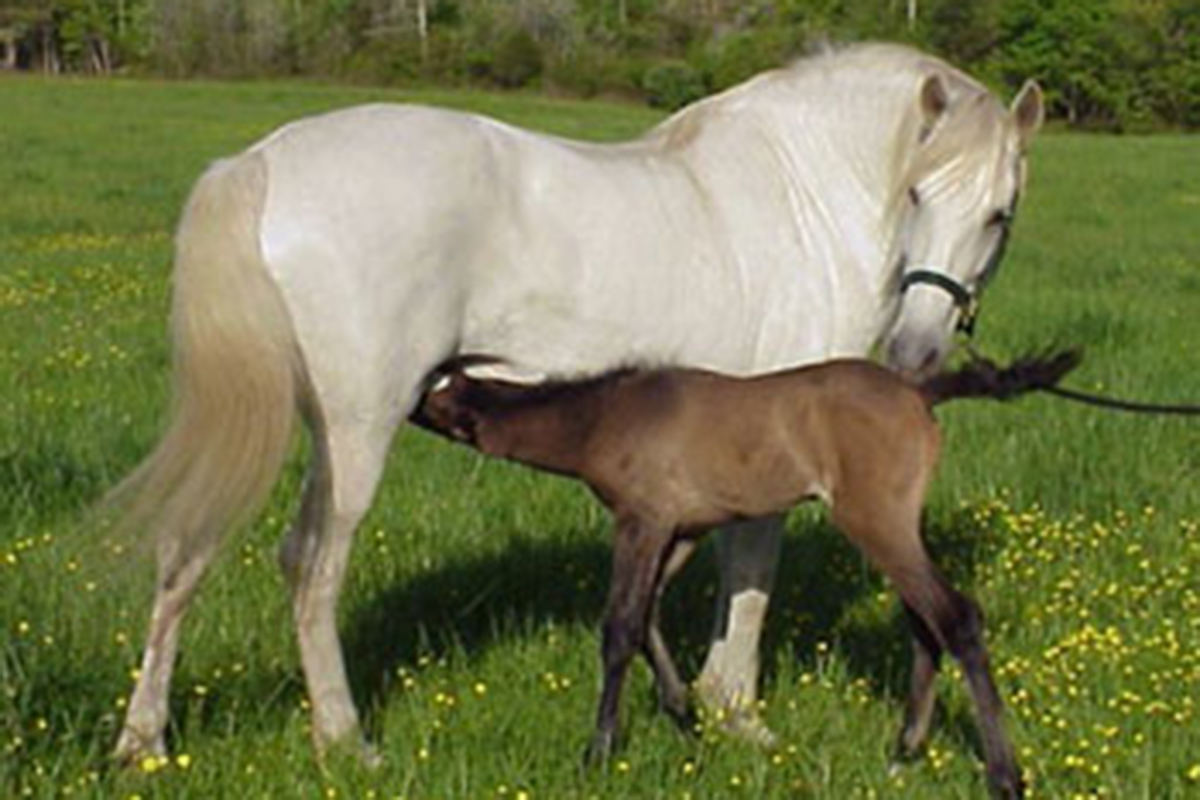 The Andalusian horse has been highly regarded since the Middle Ages. The Andalusian, has officially been known as the Purebred Spanish Horse, reigned for several centuries throughout the known world as the embodiment of perfection in horseflesh. The Andalusian is represented by the names Iberian Saddle Horse, Iberian War Horse, Jennet, Ginete, Lusitano, Alter Real, Carthusian, Spanish Horse, Portuguese, Peninsular, Castilian, Extremeno, Villanos, Zapata, and Zamaranos.
Spanish horses have been esteemed for their quality and appearance since Roman times. The Moors invaded Spain in the Seventh Century and brought Barb horses with them. These oriental horses were crossed with quality native Spanish stock, and the result was the Andalusian. In the Middle Ages, the Andalusian was the favored mount for European nobles. The Andalusian was a major influence on the Lipizzaner breed in the 1500's. More recently, it was used as a cavalry mount. Its numbers at one time diminished, but today the Andalusian's physical appearance and flashy action make it one of the world's most desirable riding horses.
Physical Description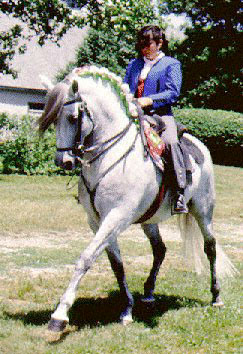 The Andalusian has a distinguished appearance, usually appearing in the colors white and light gray, and occasionally bay. It is a compact horse with excellent proportions, and usually stands at 15.2 hands. The mane and tail are abundant. It has a flat or slightly convex nose, small ears, and its head is set on a substantial neck. The chest is quite massive and the quarters are lean. The legs are clean and the action is quite energetic. The Andalusian is renowned for its ability to learn and its superb temperament.
Origin
The Andalusian originated in and gained its name from the Spanish Province of Andalusia. Its ancestors are the Iberian (Spanish) horse and the Barb horse which was brought to Spain by invading Moors. It was bred principally by Carthusian Monks in the late Middle Ages. The famed William Cavendish, Duke of Newcastle, wrote: "...the Spanish horse is the noblest animal in the world..." Cortes brought Andalusians to America for his conquests.
Notes of Interest
Andalusian horses owe a great deal to the Carthusian Monks who bred them, beginning in the late Middle Ages. In the late 1400's, studs were founded at monasteries in Terez, Seville, and Cazallo. The monks were superb horse breeders and trainers, and kept the blood of their horses quite pure. The Andalusian's purity was threatened in the 1800's when Napoleon's army invaded Spain and stole many horses. One herd of Andalusians was hidden and used to renew the breed. In 1832, an epidemic devastated Spain's horse population. Only a small herd of Andalusians at the Monastery of Cartuja survived. No Andalusians were exported until 1962.
Registries and Breed Associations
Australia
Asociacion de Caballos de Pura Raza Espanola- Australia Inc.
PO Box 453
Mt Barker 5251
Australia
Fax: 61 8 83889820
Email: mayica.acpre@newave.net.au

The Spanish Horse Promoters
Andalusian Australia
P.O. Box 100
Lara, Victoria 3212
Australia
Telephone/Facsimile: (613) 5282 4406
Email: info@andalusian-australia.com.au
Austria
Association of the Friends and Breeders of the Purebred Spanish Horse (PRE) in Austria
Nursch 9
A-2002 Großmugl
AUSTRIA
Contact: Brigitte and José Millán-Ruiz
Tel: 0043-2268-6603 Fax: 0043-2268-6680
Email: millan-ruiz@aon.at
New Zealand
Andalusian Horse Association of New Zealand Inc.
PO Box 65-244
Mairangi Bay
Auckland
New Zealand
Phone: 64 9 2928710
Email: inverness@xtra.co.nz or grins@xtra.co.nz

Asociacion de Caballos de Pura Raza Espanola - NZ Inc.
313, Glenbrook-Waiuku Road
RD 1, Waiuku
New Zealand
Email: sabina.h@ihug.co.nz
Spain
International Official Registry Stud Book for the
Pure Bred Spanish Horse
Jefatura de Cría Caballar
Registro Matricula de Caballos y Yeguas de Pura Raza
Paseo de Extremadura, 445
28024 Madrid SPAIN
Phone: +34 91 5183449
Phone: +34 91 5183249
Phone: +34 91 7113396
United States
International Andalusian and Lusitano Horse Association
Box 200
Birmingham, Alabama 35242
Phone: (205) 995-8900
Fax: (205) 995-8966
References
Andalusian Association de Caballos de Pura Raza Espanola New Zealand Inc., 334 Mystery Creek Road, RD 1, Ohaupo, New Zealand
Kentucky Horse Park, 4089 Iron Works Pike, Lexington, KY 40511
Hendricks, Bonnie L., International Encyclopedia of Horse Breeds, Univ of Oklahoma Press, 1995