The Tersk light saddle breed was developed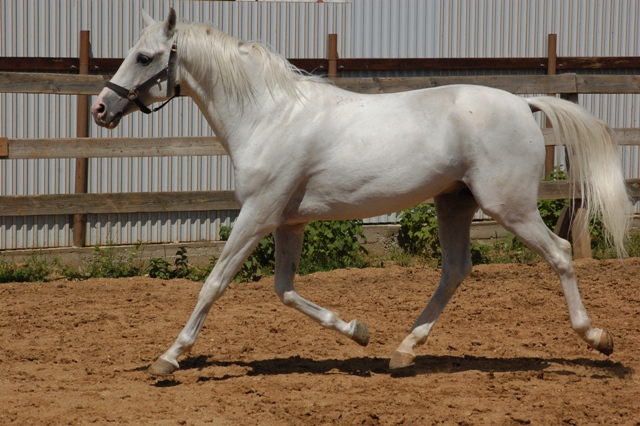 during the 1920-40's at Tersk and Stavropol studs. The foundation stock consisted of the Strelets stallions Tsilindr and Tsenitel and mares of the Arab-Don and Strelets-Kabarda complex. Since the initial gene pool was limited, the Arabian stallions Koheilan IV, Marosh and Nasim were brought in to produce the Tersk breed. Selection was directed toward a breed as smart as the Arabian but more massive and better adapted to improved taboon management. Crossing with the Strelets stallions followed by inbreeding produced the new breed.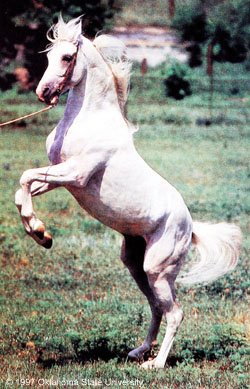 The Tersk type is quite close to the Arabian. Typical are the light head with straight face, wide forehead and jaw, long poll, medium-long high-set neck, rounded and well-muscled croup, deep and wide chest, long and sloping shoulders, correctly-stanced clean legs, thin hair cover, mane and tail. Colors: gray, bay, golden chestnut.
The measurements (in cm) of breeding animals at Stavropol stud are as follows: stallions - height at withers 160, chest girth 187, cannon bone girth 19.9; mares: 157, 182 and 19.3 respectively. Tersk horses perform well both in flat racing, classic events and, particularly, in the dressage. They are widely used in circuses. The breed has scored the following records for various standard distances 1600 m - 1min 48 sec, 2400 m - 2 min 46 sec and 3200 m - 3 min 47 sec.
Tersk horses are known for their remarkable endurance. All the horses which participated in a 310-km distance race easily reached the finish.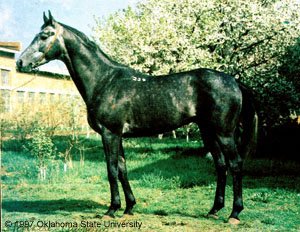 The Tersk has solid build and sound health. It is a long-lived horse. Average fertility: 70-75 live births per 100 mares.
The breed is composed of 5 sire lines and 5 mare families. There are three intra-breed types: the basic or original, eastern and heavy. Tersk stallions are widely used to improve native mountain breeds such as the Deliboz and the Lokai. The Tersk is also in demand for export. Concentrated at one stud - Stropol - the pedigree nucleus is very small (250 mares) and requires protective management.
References
Dmitriez, N.G. and Ernst, L.K. (1989) Animal Genetic Resources of the USSR. Animal Production and Health Paper Publ. by FAO, Rome, 517 pp.