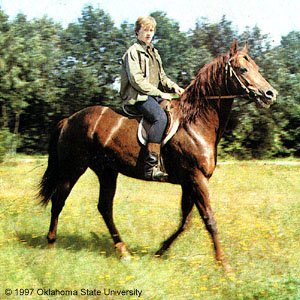 This breed group was developed in the studs of the Ukraine since the war by crossing Hungarian mares (Nonius, Furioso-Northstar and Gidran) with Trakehner, Hanoverian and Thoroughbred stallions. Particular value was attached to individuals with a trace of Russian Saddle horse blood.
At the initial stages of breeding the improved taboon system was used. Now stable and pasture management are used.
Their breeding began at Ukraine stud in Dnepropetrovsk region and subsequently continued mainly at Aleksandriisk, Derkulsk, Dnepropetrovsk and Yagolnitsk studs. The Ukrainian Saddlers are now bred mostly for sport. They are large heavy saddle horses. The head is well proportioned, the eyes expressive; the straight neck is long, as is the poll; the withers are prominent, the back long and flat, the loin broad and deep, the body heavy and the limbs well set. The build is solid. The average measurements (in cm) of stallions are: height at withers 165, oblique body length 166, chest girth 191, cannon bone girth 21; the measurements of mares are somewhat less: 160, 160, 188 and 19.8 respectively. The most widespread colors are bay, chestnut and brown.
Ukrainian Saddle horses perform well in classic events, particularly in dressage. The Soviet equestrians riding them have repeatedly won or have been runners-up in the highest-ranking competitions, such as the Olympics and the World and European Championships.
In the long term, the main breeding method is that of pure breeding with corrective crossing with the Thoroughbreds. The Bespechny line of the Ikrainian breed consists of horses derived from the least of the Russian Saddle horse.
References
Dmitriez, N.G. and Ernst, L.K. (1989) Animal Genetic Resources of the USSR. Animal Production and Health Paper Publ. by FAO, Rome, 517 pp.