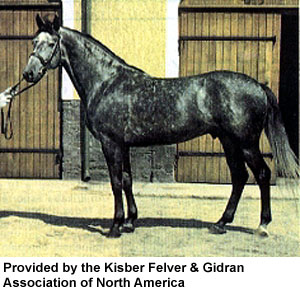 The Kisber Felver breed was developed at the former Kisber Stud in Hungary. The stud farm was founded in 1853 on 15,000 acres. It was developed primarily for the breeding of Thoroughbred horses. The stud produced such racing talents as Kisber, winner of the Epsom Derby; and Kincsem, the unbeatable mare who made her way into the Guinness Book of World Records for an unbeaten 54 races. The Kisber Stud not only left permanent marks on Thoroughbred racing history, but also developed a half-bred horse that was regarded as the world's most beautiful sport horse. Through a carefully planned and controlled breeding program, rigorous in its selection process, a distinct type evolved. Created over a hundred years ago, the Kisber Felver clearly displays the traits that we desire in the modern sport horse: conformation, athletic ability, movement, and temperament.
Few countries have experienced the turmoil's of war as often as Hungary. Each invasion left ifs mark on the horses. Unfortunately, World War I and World War II nearly destroyed them. In 1945, more than half-breeding stock was taken as war damages. Many were adopted by other breeds to use as improvement stock. A very famous example of this is the Trakehner Burnus, who carries not one drop of Trakehner blood, but is in fact a classically bred Kisber Felver. 150 Kisber Felver horses were imported for the US Remount. Unlike the romantic and yet similar story of the Lippizaner, these horses were sold at public auction in 1947 when the remount disbanded. Only a handful of people understood the true value of these horses and only through their diligence and passion for these "Heavenly Horses" do they remain in North America.
Efforts are being made on two continents to save this breed. Faced with extinction, there are less than 2000 Kisber Felvers in the world. This breed is struggling for recognition, but has individuals worthy of notice.
The Association aims to produce a superior performance horse that encompasses beauty, endurance, mental and physical balance, and an excellent character. Kisber Felvers are capable of performing in all modern sport horse disciplines. They range in all solid colors, including palomino and buckskin. Sizes are 15.3 to 17.0 hands. Accepted crosses: Trakehner, Thoroughbred, Arabian, Anglo-Arabian, Shagya Arabian, and Selle Francais with a four generation pedigree and minimum size of 15.2 hands. All breeding stallions must be inspected and licensed by the breeding committee to be used for breeding.
References
Kisber Felver & Gidran Association of North America, 4256 Camino Perdido, Golden, Colorado 80403