The Appaloosa's heritage is as colorful and unique as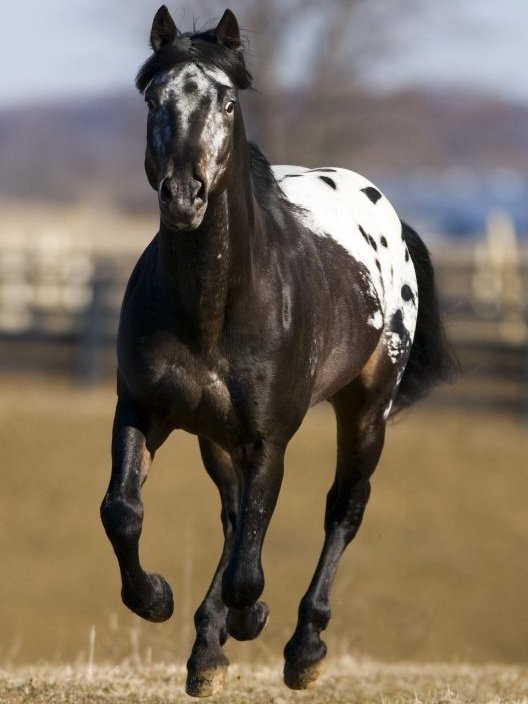 its coat pattern. Usually noticed and recognized because of its spots and splashes of color, the abilities and beauty of this breed are more than skin deep.
Appaloosas are found in nearly every discipline. Setting speed records on the race track, excelling at advanced levels of dressage, jumping, games, reining, roping, pleasure, endurance and as gentle family horses - any of these roles can be filled by the versatile Appaloosa. Their eager-to-please attitudes and gentle dispositions make them a pleasure to work with in any area.
Humans have recognized and appreciated the spotted horse throughout history. Ancient cave drawings as far back as 20,000 years ago in what is now France depict spotted horses, as do detailed images in Asian and 17th-century Chinese art.
The Spanish introduced horses to North America as they explored the American continents. Eventually, as these horses found their way into the lives of Indians and were traded to other tribes, their use spread until most of the Native American populations in the Northwest were mounted (about 1710).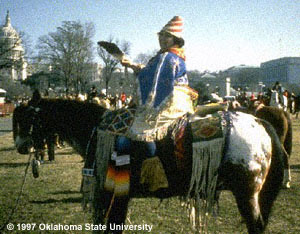 The Nez Perce of Washington, Oregon and Idaho became especially sophisticated horsemen, and their mounts, which included many spotted individuals, were prized and envied by other tribes. Historians believe they were the first tribe to breed selectively for specific traits - intelligence and speed - keeping the best, and trading away those that were less desirable.
When white settlers came to the Northwest Palouse region, they called the spotted horses "Palouse horses" or "a Palouse horse." Over time the name was shortened and slurred to "Appalousey" and finally "Appaloosa."
During the Nez Perce War of the late 1800's, Appaloosa horses helped the Nez Perce avoid battles and elude the U.S. Cavalry for several months. The tribe fled over 1,300 miles of rugged, punishing terrain under the guidance of the famed Chief Joseph. When they were defeated in Montana, their surviving horses were surrendered to soldiers, left behind or dispersed to settlers. Nothing was done to preserve the Appaloosa until 1938, when a group of dedicated horsemen formed the Appaloosa Horse Club for the preservation and improvement of the diminishing spotted horse.
Now an international breed registry, the ApHC - along with the Appaloosa Museum and Heritage Center - is located in Moscow, Idaho. More than half a million Appaloosas are on record, with about 10,000 new horses registered and 26,000 members annually. Moscow also is the source of the official publication of the ApHC and Appaloosa horse, the Appaloosa Journal, a monthly, award-winning magazine.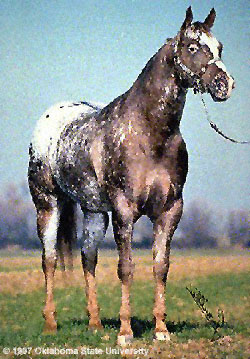 As Appaloosa numbers grow, so do ApHC programs and services. There are more than 600 ApHC-approved regional shows and a World and National Show annually. To make owning an Appaloosa challenging and fun, these shows offer numerous awards in three main competition levels: youth, non-pro and open.
For those who just want to enjoy the outdoors on horseback, there is the saddle log program which requires no special travel or equipment, but simply spending time with your Appaloosa. The organization also sponsors four week-long trail rides each year complete with entertainment and catering.
There is something for everyone in the world of Appaloosas. Many are fine-tuned show horses and well-conditioned athletes, but some also hold the distinction of being reliable family horses. Often chosen for children's mounts because of their level heads and even temperaments, Appaloosas win hearts as quickly as their color turns heads.