Justin Morgan was a living legend. In the manner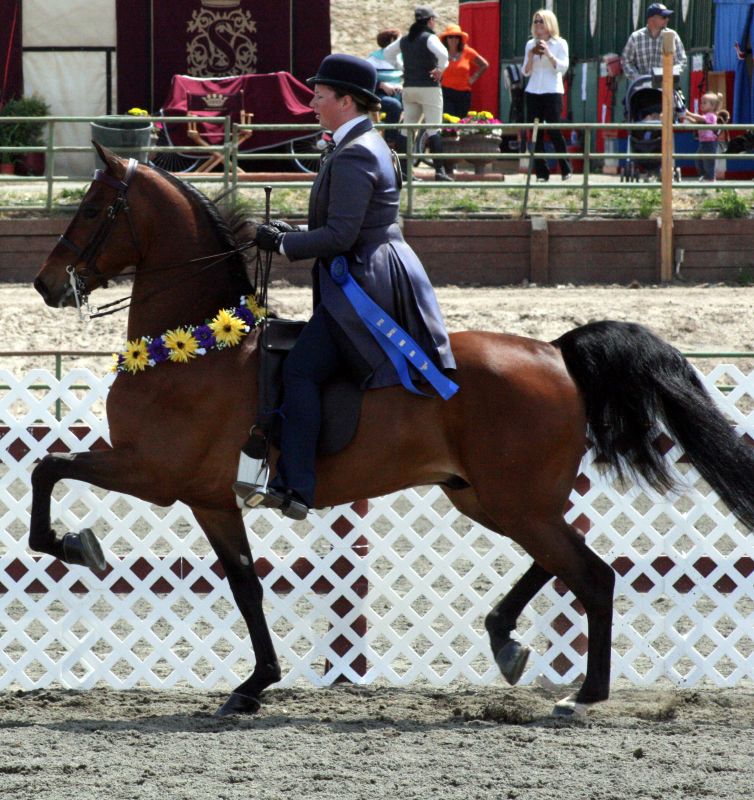 of so many heroes, he began as an unremarkable colt and became the father of an entire breed of horses recognized for quality and dependability.
Born in 1789, Justin Morgan started life as a small, rough-coated colt known as "Figure." In 1791, he left his birthplace in Springfield, Massachusetts with his new owner, the soft-spoken schoolteacher Justin Morgan, by whose name the stallion eventually became known. Although his breeding was unknown (thought to be of Dutch, Thoroughbred, or Arabian breeding), the quality of Justin Morgan's ancestry showed in his straight clean legs; deep muscling over his quarters and shoulders; and fine, intelligent head with large expressive eyes and short, pricked ears. Add to these the quality of his movement, a thick but silky mane and tail, and a clean-cut throatlatch, and you have the conformation of the ideal light horse. Despite these fine qualities, Justin Morgan's lack of size was such that his debt-ridden owner found no buyers on their journey north to Randolph Center, Vermont. It was simply fate that no one but, his new owner realized what a little giant he was.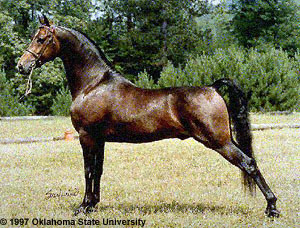 Over the next 30 years, the little bay stallion worked long, hard hours in the fields and on the roads of Vermont. Gradually, the local population began to talk about the feats of "the Justin Morgan horse". Standing just over 14 hands tall, Justin Morgan's exploits gained him fame because he was not as big as colonial workhorses nor as tall and long-legged as racehorses, yet he consistently outperformed both. There was the time he pulled a log no draft horse could budge, the day only he had the beauty, spirit and manners to carry President James Monroe on a muster-day parade ground; and the time he outran the most winning racehorse central Vermont had ever known, at least until that day.
Doing it all and doing it well, Justin Morgan remained sound of eye, wind, and limb throughout a lifetime of two ordinary horses. That should have been enough, but the stallion added still more: showy, ground-covering gaits with speed to spare at any one of them; a gentle disposition that made him safe enough for a child to handle yet spirited enough for any horseman, beauty men would to recall decades after his death; and a rare courage that made men who lost bets on him hit their flagons of rum and say, 'To the little Morgan!' and drink deeply.
Justin Morgan also proved to be one of the greatest breeding horses of all time. As the saga of the little stallion grew, countless mares were bred to him. So prepotent were the genes of this stallion that no matter what type of mare he was bred to, be she of heavy draft or refined racing-type, his offspring inherited his image and abilities. While most breeds develop by breeding horses of similar characteristics to each other, Justin Morgan's ability to pass his characteristics to his offspring for generations to come allowed this single stallion to found an entire breed in his likeness. Today, every registered Morgan traces back to Justin Morgan through his best-known sons Bulrush, Sherman and Woodbury.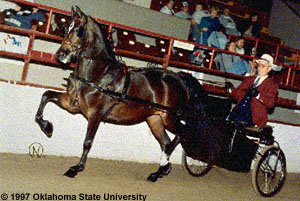 In the coming years, the offspring of these strong, willing, able light horses grew along with the young nation that was building itself upon hard work and determination. In the hands of American colonists, Morgans cleared rugged Vermont mountainsides and converted them into rich farmland. But they weren't mere workhorses, Morgans had the style and elegance to capture the admiration of any city horseman. While some Morgans earned their keep on the farm others were in high demand to become smart roadsters for Boston and New York financiers. When harness racing reached its heyday in the 1800s, the World's Fastest Trotting Stallion was Ethan Allen 50, old Justin's handsome great-grandson.
As America grew so did the feats of the Morgan. New England men answered the call of gold and headed for California on Morgans. In the Civil War, the famed Vermont Cavalry was mounted on Morgan horses. Not only did the Union's General Sheridan ride his Morgan Rienzi, Stonewall Jackson rode his Morgan, 'Little Sorrel,' for the Confederacy as well! In the Indian Wars, the only survivor in the Battle of the little Big Horn was Keogh's Morgan-bred horse Comanche. If the pathways of history are paved with the bones of the horse, surely America's are paved by Morgans.
While the offspring of Justin Morgan were taming the wilderness and building the country, they were also creating the standards by which other American breeds would become known. The stamina and vigor of the Morgan together with his excellent conformation and way of going helped make other American light horse breeds what they are today. The great speed of today's racing Standardbreds was produced by crosses to the fastest Morgan blood. in the 1860s, the Morgan stallion Shepherd F. Knapp was exported to England where his trotting speed became a byword. Today, many English Hackneys carry his name in their pedigrees. In American Saddlebreds, such famous champions as Edna May, Bourbon King, Rex Peavine, and Wing Commander trace to Justin Morgan. The foundation sire of the Tennessee Walking horse, Allen F-1, was a grandson of the Morgan stallion Bradford's Telegraph. In addition, many good Morgan mares were sent to Texas only to lose their breed identity in Quarter Horse bands, and to make the breed greater for it. The oldest of all American breeds the Morgan was strong enough to contribute greatly to almost every other American light horse breed while retaining its own identity across two centuries.
Present-day Morgans differ little from their mighty progenitor. The average size of a Morgan today is between 14.2-15.2 hands, with some individuals over or under. Morgan coats are predominantly chestnut, bay, or brown, although many black, palomino, buckskin, and even a few grays appear in the breed. The breed's tremendous courage, disposition, substance, and type has remained as important to breeders today as it was 200 years ago. Whether you visit farms in New England, California, or any state in between, you can see bands of Morgans with the same deep bodies, lovely heads, and straight clean-boned legs. In barns and show rings across the country, the Morgan show horses flash by with heads high, eyes bright, and nostrils wide - Morgan quality showing in every hair on their gleaming, muscular bodies.
Today, Morgans have few wildernesses to conquer or wars to win, but they still accomplish great deeds. They are loved and revered as dynamite performers in Morgan shows across the country, and as loyal, sensible mounts on America's beautiful trails and pathways; they are treasured by mounted police squads and therapeutic riding programs for their intelligence, soundness, and gentleness; they are winning awards in driving, dressage, reining and cutting competitions against horses bred specifically for these jobs; and no matter what they may be doing or the tack they wear, knowledgeable horsemen see them and know, 'That's a Morgan!'
A bit of the hard-working, determined Morgan legend is with us whenever a Morgan carries a saddle-weary cowhand down a Montana mountain, pulls a carriage around a grueling obstacle course in record time, quietly carries children along a wooded path, or flashes around show rings with a style that causes spectators to cheer. The Morgan, our country's first breed of light horse, is as much a part of America today as it was two centuries ago.'
The Morgan legend has also spread around the world. Morgan owners and dubs can be found in Canada, England, Germany, Italy, France, Australia, New Zealand, Mexico and South America. The beauty, intelligence, and willing personality of the Morgan will win you over too!
Registries and Breed Associations
The Netherlands, Belgium and Luxembourg
Benelux Morgan Horse Association (BMHA)
PO Box 7170
4800 GD Breda
The Netherlands
bmha2@hotmail.com
Canada
Canadian Morgan Horse Association
Box 286
Port Perry, ON, Canada
L9L 1A3
Phone: (905) 982-0060
Fax: (905) 982-0097
Contact: Nancy Kavanagh
Email: info@morganhorse.ca
Great Britain
British Morgan Horse Society
PO Box 155
Godalming
Surrey
GU8 5YE
UK
Tel/FAX: 01483 861283
The Morgan Horse Association (UK)
Pampisford Place
Pampisford
Cambridge
CB2 4EW
Tel: 44 1223 833186
Fax: 44 1223 836505
United States
American Morgan Horse Association
4066 Shelburne Rd Ste 5
Shelburne, VT 05482-0960
Phone: (802) 985-4944
The Archival Morgan Record
150 East 9th Street, Suite 1-245
Bloomsburg, PA 17815

The Lippitt Morgan Breeders Association
President: Jacquie Schaumberg, 1165 North Svc. Road West, Warrenton, MO 63383, (314) 456-7473, Email: edgewood@mocty.com
Secretary: Mary Wilke, West 360 S3361 Hwy 67, Dousman, WI 53118, (414) 965-4830, Email: Eastbrook1@aol.com
New Zealand
The Morgan Horse Association of New Zealand
President : Brent Penman
672 Glengarry Road, RD2, Napier 4182
Secretary: Maree Edmonds
Email: ruraldwellers@inspire.net.nz
References
American Morgan Horse Association, P.O. Box 960, Shelburne, VT 05482-0960.
Phone: (802) 985-4944.