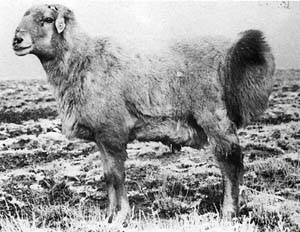 The Altay originated in the regions of China typified by dry, cold mountain basins. They belong to the Kazakh group of sheep which are found in the desert and mountainous areas in west Xinjiang.
Altay belong to the fat-rumped carpet wool type. They gradually formed the fat tail (or rump) as a biological characteristic. The tail (or rump) weighs about 15 pounds (69 kg) at maturity. The lambing percentage of this breed is approximately 103%. The Kazakh group of sheep average 2.5 to 3.5 pounds (1.3-1.5 kg) of wool per shearing.
Due to the sharp seasonal contrast in forage availability in these pastoral areas the sheep tend to deposit a large amount of fat in the body in order to meet nutritional demands during the winter and spring. In addition, the herdsmen working under these climatic conditions need fat as the main source of energy supply, and so have selected towards sheep with high fat deposits.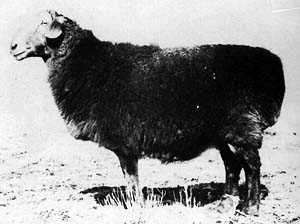 References
Cheng, P. (1984) Livestock Breeds of China. Animal Production and Health Paper 46 (E, F, S). Publ. by FAO, Rome, 217 pp.