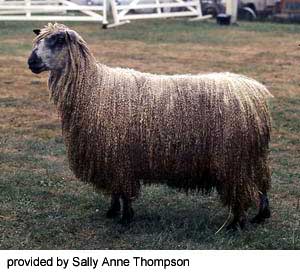 When the Romans invaded Britain, they brought with them a large, long wool sheep breed. This breed has branched off into many different breeds, named for the region they branched off into. These breeds are the Cotswold, Lincoln, Leicester, Devon Longwools, and the Teeswater. The Teeswater is found in Northern England, especially Teesdale, County Durham.
In the early 1900s, the Teeswater had a brush with extinction. This is due to the Wensleydale breed increasing in popularity, and the Teeswater sharply decreasing. The breed only survived due to several farmers keeping Teeswater rams to cross with hill sheep ewes. Today, the value of these rams for cross-breeding is better-known, and they have become more prevalent, although still rare.
The first Teeswaters born in the United States were recorded in 1997.
Characteristics
The Teeswater sheep is a large, polled, dual purpose breed. Noted for their long, purled locks, they have a staple length of eight to twelve inches. They typically have a docile temperament, good maternal instinct in ewes, and a hardy build. Rams have an average mature weight of 300 lbs, and ewes are about 200 lbs.
References
Rd., Clayton, Bradford.
Teeswater Sheep Society of North America