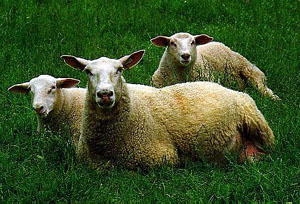 This breed was developed during the 1970's in England by Lawrence Alderson in Wiltshire and Northumberland. We have found sources in conflict as to its exact breed make-up. Frahmy (1996) gives it as 70% East Friesian, 10% Bluefaced Leicester, Polled Dorset and Lleyn and 5% of a composite of Bluefaced Leicester, Polled Dorset and Lleyn, previously developed by the same breeder. Mason (1996) shows a breed composition of 42% Friesian (East and West), 16% Bluefaced Leicester, 15% Composite, 13.5% Lleyn, 11.5% Polled Dorset and 2% other.
The breed was established and released in 1980. Animal of this breed are medium to large in size, polled, with white, woolless, face and legs.
British Milksheep is the most prolific breed in the United Kingdom with yearling litter size averaging 2.21, 2-year-olds at 2.63 and 3.07 in mature ewes. Easy lambing is generally reported in this breed with credit being given to an exceptionally large pelvic area. A milk yield of 650-900 L has been reported during a 300-day lactation. As a result of high milk yield, triplets reared on the ewe average a weight gain of 0.33 kg/day. The milk solids is also particularly high. The protein content rises from about 5% in early lactation to 7.5% in late lactation, and the fat content changes from 5.5-9%.
British Milksheep produce a heavy, lean carcass. Fleece weights range from 4.0 kg in ewes and over 6.5 kg in rams. The demi-lustre wool have a spinning count of 50-54's with a staple length of 12-18 cm.
References
Frahmy, M.H. and I.L. Mason. 1996. Newly Developed Prolific Breeds. Chap 3. 13, Prolific Sheep. (M.H. Fahmy, ed.), CAB International, University Press, Cambridge 542 pp.
British Sheep and Wool, British Wool Marketing Board, Oak Mills, Station Rd., Clayton, Bradford. 112 pp.
Mason, I.L. 1996. A World Dictionary of Livestock Breeds, Types and Varieties. Fourth Edition. C.A.B. International. 273 pp.