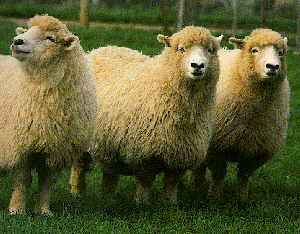 The Elliottdale is a carpet-wool sheep which was developed at the Elliott Research Station in Tasmania.
Development of the breed commenced in 1963 when the CSIRO made available a ram which was the progeny of a New Zealand Drysdale ram and a Merino/Border Leicester cross ewe. It was later discovered that this ram did not possess the gene for carpet-wool characteristics and work continued based on locating sheep with carpet-wool gene in the Tasmanian Romney flocks. This was achieved in 1968.
Development of the breed continued using a base flock of pure Romney ewes, many showing some carpet-wool characteristics.
By 1972 it was considered that top selected rams were breed true and that the breed had become fixed in type.
The Elliottdale is similar to the Romney, with cleaner points and a carpet-wool fleece of 38-40 micron diameter. Rams may be horned or polled but ewes are always polled. The breed also has many prime lamb features, producing quick growing lambs of excellent quality.
The wool growth is such that adult sheep require two shearings per year yielding 120-200 mm of wool with an annual average wool cut of six kilograms (~13 pounds).
References
Handbook of Australian Livestock, Australian Meat & Livestock Corporation, 1989, 3rd Edition