The Oxford, or Oxford Down, originated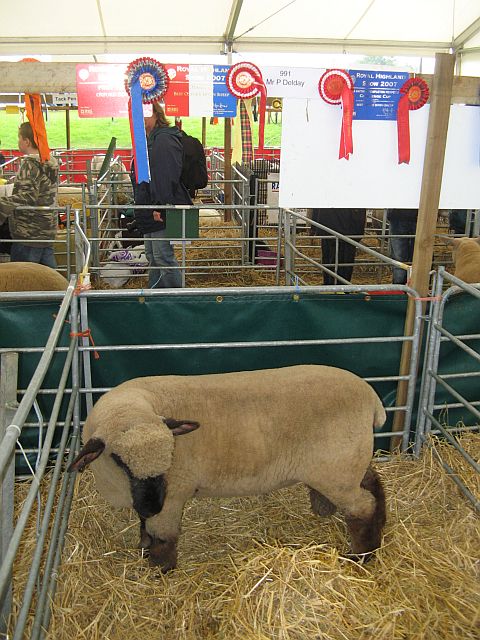 in Oxford County England. The Oxford breed originated as the result of crossing Cotswolds and Hampshires. It should be kept in mind that at the time the Oxford breed was established neither the Cotswold nor the Hampshires were the same as they are in modern times. Rather, they were strains of sheep that were themselves in the process of being improved. It has been contented that very early in the development of the Oxford breed a small amount of Southdown blood was introduced.
During the period from 1829 to 1850 the type of Oxfords was quite variable, and during early periods in their development they were sometimes referred to as the Down-Cotswold sheep because of their crossbreed nature. It was not until after 1859 that the sheep were customarily referred to as Oxford Downs. The breed has never become prominent outside of its own native area in England. Oxfords have been exported to many major sheep countries and have met with at least fair success in all and marked success in some.
H.P. Miller states in "Oxford Down Sheep" that the breed had gained enough recognition by 1846 that it was imported into America. In 1853 small flocks were brought to Virginia and Massachusetts.
The Oxford is one of the largest breeds of sheep and is only surpassed in body weight by the Lincoln. The Oxford is a very large breed of mutton sheep that has proved itself very useful in the northern farming states and in Canada. In these areas, under conditions of liberal feeding, it is considered a very valuable sheep in the production of market lambs and heavy fleeces. Although the Oxford does not shear quite as many pounds of wool in proportion to its live weight as does the Shropshire, it does shear a valuable commercial fleece of long-staple, light-shrinking wool. The Oxford produces the heaviest fleece of any of the Down breeds.
Oxford ewes are prolific, and lambing percentages of 150 percent are not uncommon. The lambs are large and strong at birth, and most of the ewes will nurse twins with little effort. The Oxford is a very good feeder, does well on an abundant feed supply, and is particularly adept at consuming large quantities of pasture and hay. This particularly suits the breed to small farms in fertile areas where pastures are good and liberal feeding is practiced. Rams of the breed are very useful in crossing on small ewes to increase the weight and size of lambs marketed and to increase the wool production of the offspring that are retained in the flock as replacements.
The Oxford has less tendency to rustle its own feed or to get along under conditions of scanty vegetation than the smaller and more active Down breeds. The Oxford breed lacks the uniformity of type that is found in some other mutton breeds, although there has been considerable improvement in this respect. Not only does it lack uniformity in body type and size, but there is also considerable lack of uniformity in color markings and in the weight and quality of the fleece.
Mature weights for Oxford males ranges from 200-300 pounds (90-135 kg), ewes are somewhat smaller weighing between 150-200 pounds (68-90 kg). Fleeces from mature ewes weigh between 8-12 pounds (3.6-5.4 kg) with a fiber diameter of 30.0-34.5 microns and a numerical count of 46-50. The staple length of Oxford fleeces ranges from three to five inches (7.5-12.5 cm) and has a yield of 50-62%.
Breed Associations and Registries
United Kingdom
Oxford Down Sheep Breeders' Association
Secretary: John S Brigg
Bishops Gorse, Lighthorne, Warwick, CV35 0BB
England, UK
Telephone: (01926) 651273
Email: john.brigg@virginnet.co.uk
United States
American Oxford Sheep Association
Mary Blome, Secretary
1960 E 2100 North Road
Stonington, Ill 62567
References
Briggs, Hilton M. 1969. Modern Breeds of Livestock. Third Edition, MacMillan Company
Who's Who in U.S. Sheep Breeds (poster), American Sheep Industry Assn., Inc.; 6911 S. Yosemite St. Suite 200; Englewood, CO 80112-1414 Phone: (303) 771-3500 FAX: (303) 771-8200