Brecknock Hill Cheviot Sheep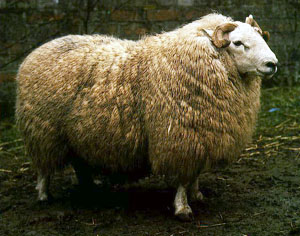 Also Known By: Brecon Cheviot, Sennybridge Cheviot
Brecknock Hill Sheep originated in the Brecon Beacon Hills (Brecknock & Sennybridge Hills) in Wales UK in Wales some 400 years ago, but only recognize in the mid 1850's. They descended from the original border Cheviots who were back then, a very small tan faced breed which closely resembled the Olde Welsh Mountain sheep, to which in fact they were related. Early on they were crossed with both Welsh Mountain to improve wool quality, then very late in the 1850's they again added some new blood of Leicester sheep.
These crosses made the Brecknock Hill & Sennybridge sheep what they are today. Purebred Brecknock Hill sheep come in all colors except spotted. They tend to be naturally small like their ancestors, the great majority of them 23" in height sheared.
Brecknock Hill Cheviot have erect ears with white face and legs and a ruff of wool behind the ears. They have no wool on the face or legs below the knee or hock. The ewes are polled and the rams are usually polled but there are occasional horned rams.
Staple length is 6 to 10 cm with a fleece weight of 1.5 to 2.5 kg. The spinning count of the wool is 50's to 56's. The fleece has some kemp but usually no red kemp. It is used mainly for tweeds and knitwear in Britain.
Their wool is wonderful for hand spinning and their nature is much more gentle than the other Cheviot sheep.
In Wales UK, these sheep stand alone and are not part of the three Cheviot sizes. They are a Welsh Hill breed of sheep, which the USA has chosen to forget.
Bibliography
"Welsh sheep and their wool" by John Williams-Davies, 1981
"A History of British Livestock Husbandry 1700-1900" by Robert Trow-Smith
"Two hundred years of British Farm Livestock" by Stephen JG Hall & HRH Prince of Wales
Registries and Breed Societies
United Kingdom
The Brecknock Hill Cheviot Sheep Registry
13 Lion St.
Becon Powys Wales LD37HY
United States
The American Brecknock Hill Cheviot Association
21150 SE 115th PI
Renton, WA 98059
Eddie Miller
403 Cheryl Way
Silver Springs, NV 89429
References
Mrs. Nees, Washington, USA
British Sheep and Wool, British Wool Marketing Board, Oak Mills, Station Rd., Clayton, Bradford. 112 pp.
Mason, I.L. 1996. A World Dictionary of Livestock Breeds, Types and Varieties. Fourth Edition. C.A.B. International. 273 pp.