Also Known By: Blauköpfiges Fleischschaf (German), Bazougers, Bluefaced Maine, Blue-headed Maine, Maine-Anjou, Maine à tête bleue, Mayne Blue
The Bleu de Maine was established around the 1800's in the Maine et Loire Mayenne, and Sarthe regions of western France. The breed was developed from a cross between Leicester Longwool and Wensleydale which were imported during that time.
The Bleu du Maine is a large breed with mature rams weighing around 240 pounds and ewes around 175 pounds. The breed has no wool on its head or legs. The breed has a dark blue slate colored head and feet. Both sexes are polled. In comparing the Bleu du Maine with the Texel breed, they show a higher litter size and age of sexual maturity. The average daily gain, carcass leanness, milk yield, lambing interval are comparable with the Texel and the Bleu du Maine are lighter muscled.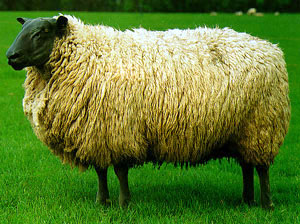 The Bleu du Maine has a heavy fine fleece. The average fleece weight is 4-6 kilograms with a staple length of 8-10 cm and the quality is 50-56's.
References
British Sheep and Wool, British Wool Marketing Board, Oak Mills, Station Rd., Clayton, Bradford. 112 pp.
European Association for Animal Production, Animal Genetic Data Bank
Mason, I.L. 1996. A World Dictionary of Livestock Breeds, Types and Varieties. Fourth Edition. C.A.B International. 273 pp.
"The Breed." Bleu Du Maine Sheep Society. Purple Thistle PR, n.d. Web. 27 July 2015.