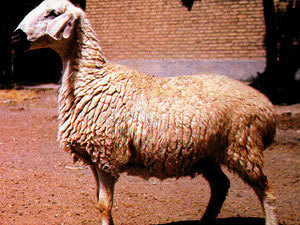 Also Known As: Baluchi dumda, Mengali, Taraki, Shinwari, Araghi, Farahani, Kermani, Khorasani, Khurasani, Naeini, Neini, Yazdi
The Baluchi originated in the area which is now southwest Pakistan, eastern Iran and southern Afghanistan.
The Baluchi sheep is a fat-tailed breed well adapted to a wide range of harsh environmental conditions in eastern Iran, one of the arid subtropical areas of the world. The fleece is white with pigmented head and legs. The wool is coarse with modulation. Body size varies between 35 and 40 kg in adult ewes, milk yield between 40 and 50 kg in a period of about 125 days and annual greasy fleece weight between 1.3 and 1.8 kg. Yazdi et al (1997) analyzed traits of birth weight (BW), Weaning Weight (WW), Weight at six months (W6), Weight at twelve months (YW), Pre-Weaning gain (W6), Post-Weaning gain (PWG), lamb fleece weight (LFW), ewe fleece weight, Sheared before first mating (Fw1) and adult ewe fleece (FW). They used of records 20,534 lambs in two flocks from 1966 to 1989. The results were similar in two flocks. The direct heritability for ram weight was moderate and varied from 0.13 to 0.32. and for WG and PWG varied from 0.12 to 0.19.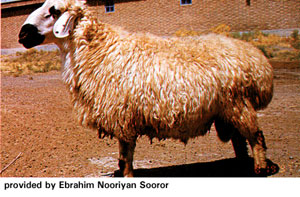 Numerous studies were conducted in Iran. For example Vaez Torshizi (1987) (M.Sc Thesis), and Eskandari
Nasab(1997)(Ph.D Thesis) (Agri School, Tarbiat Modarres Uni, IRAN) reported similar results.
References
Tazdi, M,H(1997). Genetic studies in balochi sheep, biometric analysis of body development, wool production and reproductive performance. Doctoral Thesis. Swedish Uni of Agri Sci, Uppsala
Tavakkolian, J(2000). An introduction to genetic resources of native farm animal in Iran. Dep of Ani Sci, Anim Sci Rese Ins, Karaj, Iran
Ebrahim Nooriyan Sooror, M.Sc of Animal Genetic Improvement, Dep of Anim Sci, Research Center of Jihad Keshvarzi, Hamedan, Iran
Mason, I.L. 1996. A World Dictionary of Livestock Breeds, Types and Varieties. Fourth Edition. C.A.B. International. 273 pp.