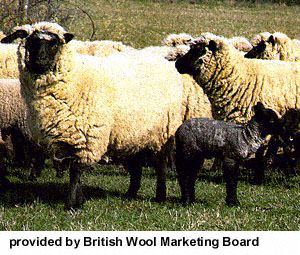 Llanwenog sheep have been traditionally bred on family farms in West Wales, particularly in the Teifi valley, although flocks are now kept from Devon to northwest Scotland. They were developed during the late nineteenth century from the crossing of clean-faced Shropshire rams with the local hill sheep, a now extinct horned breed with a black face. A polled, black faced breed resulted, combining the merits of both parent breeds and capable of producing prime lamb either purebred or crossbred.
Prolificacy
Wider interest in the breed was firstly aroused in the 1960s by a succession of wins in several national lambing competitions. Most notably The Thomas Memorial Trophy was won on six occasions with an average of 215%. Flock recording by the MLC in the 1970s revealed that the Llanwenog was our most prolific native pure breed. Under commercial conditions an average of 180% lambs reared to ewes bred may be expected but even higher rates are achieved if specifically bred for. The Llanwenog was used in the formation of the highly prolific Cambridge breed and evidence suggests that the major gene factor influencing prolificacy in the Cambridge is also present in some Llanwenog sheep families.
Docility
The breed has a very placid temperament, is easily handled, easily contained and is well suited to stress free in-wintering if necessary. This has important consequences for the health of both the animal and its keeper.
Low Depreciation
Llanwenog sheep compare most favorably with the more fashionable modern crossbreeds in this respect. The self-contained purebred flock minimizes the risks of many disease problems such as abortion that can be associated with buying in annual replacements. Nor are productive lives cut short by early tooth loss, the Llanwenogs' teeth tend to wear out rather than drop out.
Size and Growth Rate
A medium sized breed, ewe's average 55 kg but rams can exceed 90 kg. As an indication of the ewes' milk production, an MLC recorded flock has impressed recently with an adjusted 56-day weight for purebred twin lambs of 19.9 kg. Lamb carcass weights from pure breeding flocks average 16 kg. While heavier weights are readily achieved by cross breeding. Ewe lambs readily take the ram in their first autumn and can produce a very valuable late finishing lamb. The combination of high prolificacy and medium mature size, which permits high stocking rates, results in the potential for high levels of output and gross margin per hectare.
Wool
The wool is considered to be among the finest in the United Kingdom with a Bradford count of 56/58 and staple length of 7.5 cm. (3 inches). Fleeces average 2.5 kg. Main uses have been for hand knitting, tweeds and hosiery while more recently the wool has earned a high reputation with hand spinners.
Show and Sale
The official breed show and sale is held in early September at Llanybydder, Dyfed. The Llanwenog Sheep Society also organizes annual flock, lambing and carcass competitions.
References
The Llanwenog Sheep Society, Secretary, Miss Meinir Green, Nantgwyn, Llanfair Road, Lampeter, Ceredigion. SA48 8JY
Phone:- 01570 423135
Email: hm.green@talk21.com