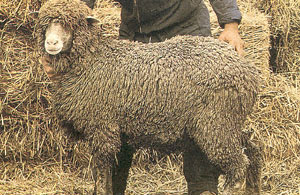 Also Known By: Apulian Merino, Merino DI Puglia, Improved Apulian, Italian Merino, Merino d'Italia, Merina Gentile.
The Gentile di Puglia is a fine wooled breed from southern Italy. Development of this breed began in the 15th century but the primary improvement was from the 18th century onward. The breed was developed from Spanish Merino crossed with the local breeds. Saxony and Rambouillet breed was introduced during the 19th century. In the last half century the number of head has dramatically decreased and at the present time there's about 15,000 sheep mainly in the Basilicata, Molise and Puglia regions.
Description and Management
Rams are horned and the females are polled.
| Body Size: | | |
| --- | --- | --- |
| | Ram | Ewe |
| Weight (kg) | 66 | 45 |
| Withers L. (cm) | 71 | 62 |
| Trunk H. (cm) | 73 | 65 |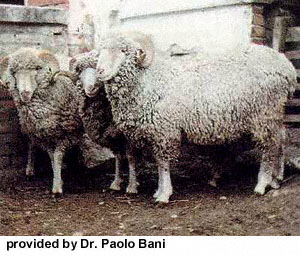 The breed is traditionally reared in the hill pastures from the late spring to the early fall and in the fold or in the lowland pasture in other seasons.
Production
The main products are:
Fine wool: fiber diameter 18-22 microns; fleece weight 6 kg in the rams and 3.5 kg in the ewes
Lean lamb: slaughtered at 30-40 days of age (live weight = 11-14 kg)
Milk (80-100 kg per lactation with 8-11% of fat) used to produce different kinds of traditional "Canestrato" cheese depending on time of ripening
References
Mason, I.L. 1996. A World Dictionary of Livestock Breeds, Types and Varieties. Fourth Edition. C.A.B. International. 273 pp.
Asso.Na.Pa. 1997. Caratteri tipici ed indirizzi DI miglioramento delle razze DERIVATE MERINE. Asso.na.pa, Roma (Italy).
Prof. Francesco Panella, Dipartimento DI Scienze Zootecniche dell'Università degli Studi DI Perugia.