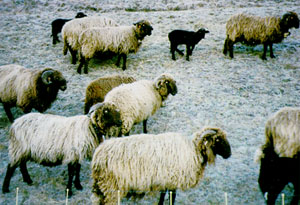 The Wallis Country Sheep (Roux du Valais) has its original distribution in Upper Wallis, where it was once as widespread as the Wallis Blacknosed Sheep. The descent cannot be determined exactly anymore. Possibly it comes among other sources from the extinct Copper Sheep. Connections to the Wallis Blacknosed Sheep and to the extinct breeds "Pilot Sheep" and the "Roux de Bagnes" did take place. The Wallis Country Sheep (Roux du Valais) nearly died out in Switzerland in the 1980s.
Characteristics
The Wallis Country Sheep (Roux du Valais) is an easily-satisfied sheep little specialized for meat production which is well suited for extensive care. It gets by also with fodder of lesser quality. Its particular features are the red-brown color ("roux"), horns, the rams nose as well as the low care requirements, a seasonality of lambing, course wool, the little distinguished meat production and lean meat. It is noted for its extreme trust in humans and a particularly strong herd instinct. It brings about high care costs and is suited well for management of borderline production areas and landscape care.
Breeding Organization
The breed experienced a renaissance through the promotion of Pro Specie Rara and the expansion of the breeding area into Romandie and German-speaking Switzerland. Responsibility for the breed lies with the Swiss Sheep Breeders Club of the Wallis Country Sheep (Roux du Valais), which was founded in Bern in 1994.
References
Endangered Domestic Animal Breeds 1995, Pro Specie Rara, Engelgasse 12a, CH-9000 St. Gallen, Switzerland, Telefon xx41/(0)71/222 74 20, Fax xx41/(0)71/223 74 01. German Translation provided by John te Velde, Associate Professor of German, Oklahoma State University